Lansing freshmen are
KVL

champs
Yes, the Lansing High volleyball program's varsity squad is state-ranked and has just one loss this season, but talent runs deep within the program.
Look no further than the freshman team to understand that.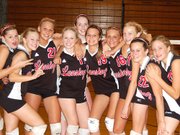 LHS won the Kaw Valley League Freshman Tournament on Saturday in dominating fashion. The Lions posted a 6-0 record for the day.
As good as the freshmen were on Saturday, coach Rhonda Lang said they were most impressive while dismantling rival Tonganoxie in the semifinals, 25-9, 25-4, and Mill Valley in the finals, 25-21, 25-7.
"I couldn't hardly believe how incredible they played in the semifinals and finals," Lang said. "They were on a mission."
Lansing faced little competition in pool play as it battered Bishop Ward (25-7, 25-13), Bonner Springs (25-17, 25-9) and Basehor-Linwood (25-13, 25-14). In fact, Perry-Lecompton posed the only serious threat of the day, and Lansing won that match comfortably, 25-18, 25-19.
The team consists of players Heather Averill, Taylor Williams, Katie Jensen, Katie Goll, Sarra Garvey, Sara Beck, Taylor Bondy, Casey Concannon, Katie Delich and Shawne Vant-Leven. They now are 10-0 this season and have won all of their matches in just two games.
Lang emphasized that the Lions' success has been a team effort that relies on the contributions of everybody.
"I have 10 girls, all of which have a part in their team's success," Lang said.