LHS

hopes to tackle

KVL

leader Bonner Springs
The race for the Kaw Valley League football championship is wide open again thanks to Basehor-Linwood's 27-21 upset of previously unbeaten Perry-Lecompton on Friday, Sept. 14.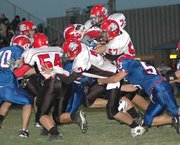 Basehor's victory now makes Lansing High the wild card in the league. Only two KVL squads are 3-0 - Bonner Springs and Mill Valley - and LHS plays both of them. Sandwiched between the Lions' 7 p.m. Friday game at Bonner and their Oct. 5 game against Mill Valley is a Sept. 28 contest with Basehor. If Lansing wins all three games, a massive tie for the top spot in the league could take place.
But first things first, Lansing must take care of business against Bonner. And right now, the Braves are playing some very good football. A year removed from narrowly missing out on the Class 5A state playoffs, they look postseason-bound. Senior quarterback Tyler Jock, a converted running back, led the Braves to a 30-8 victory over the Tonganoxie Chieftains on Friday. Jock rushed for 139 yards and also threw an 84-yard touchdown pass to Jeremy Walker.
This isn't the Bonner Springs of old, the one that routinely competed for the cellar position in the KVL standings, and LHS coach Bill Pekarek said the Lions are well aware of that.
"It'll be a good challenge for our entire team offensively and defensively," Pekarek said. "They're kind of rolling right now, and we need to shut somebody good down like that, so it'll be a good test."
Fortunately for the Lions, they enter the game with momentum after hammering the Santa Fe Trail Chargers, 50-25, on Sept. 14.
Lansing's running back triple-threat of seniors Chris Hill and Brad Terron and junior Brenton Smith piled up more than 300 yards against Trail, and senior quarterback Bobby Hauver threw touchdown passes to three different receivers.
Hill, who ran for 173 yards and two touchdowns against Trail, said the Bonner game would be a pivotal point in Lansing's season.
"This is really when we're going to see what kind of season we're going to have," he said. "If we lose again, then we're right back where we were last week (after a 42-13 loss to Perry). If we can come out and play with a team that's 3-0 and show that we're one of the best teams in the league, then it'll be a statement game."