Thunder escapes tournament with Prison Break championship
Ten Lansing High girls soccer players helped the Leavenworth Thunder win the Prison Break Tournament championship Sept. 7-9 at the Leavenworth Soccer Association fields.
The Thunder posted a 3-0 record in pool play and then claimed a 3-0 victory over the KC Outlaws in the finals of the 18-and-under division.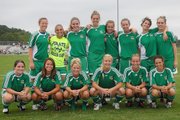 The four-game winning streak lit a spark in the Thunder after a shaky start to the fall season, and their record now is 4-3-1.
"It was a real good tournament for us," Thunder coach Mike Robinson said.
The championship, while not guaranteed by any means, was something Robinson said he expected his team to deliver.
"I would've been very disappointed had we not done as well as we did," he admitted. "We played in a tournament the week before against equal talent, and we played very well defensively, but we didn't play well offensively. This time we were able to work on our offense without sacrificing our defense."
Robinson said he had high expectations for his squad at the Prison Break Tournament because it was one of the rare weekends where he had the full lineup available. A number of his players compete in other sports for their high schools, so they aren't always available for each tournament.
This time, however, everybody was there. That included LHS seniors Liane Swisher, Lauren Elkins, Christine Cordes and Sarah Sargent, LHS juniors Kathryn Sebes, Lauren Algarra and Tigan Huffman, LHS sophomores Ali Dillon and Briana Hall and LHS freshman Marita Meyer.
Also playing were Leavenworth High players Mindi Lozenski, Kyia Turner and Megan Anderson, Bonner Springs' Alyssa Kelly and Piper's Alina Cawthon.
The Thunder opened the tournament with a 4-2 victory over the Outlaws. Then the Thunder earned a 2-1 victory over the KCFSC Freedom and a 4-1 victory against the Lawrence KSA Orange and earned a spot in the finals.
Robinson praised his team's defensive effort, which included a goalkeeper-by-committee effort from Cawthon and Elkins because regular starter Laura Ferguson currently is rehabbing a knee injury.
"Both of these girls are excellent athletes," Robinson said of Cawthon and Elkins. "They're very athletic, and they're good with their feet, so it helps us out offensively because we like to play the ball back to the keeper."
Offensively, Robinson said his team excelled at stringing together passes and scoring on set plays. That included goals by Sargent and Turner off of corner kicks.
Lozenski and Kelly are the Thunder's leading scorers with seven points apiece on three goals and an assist. Dillon and Cordes are close behind with six points apiece on two goals and two assists.
"We have scoring threats in the midfield and up top, so that works out really good," Robinson said. "And Kyia, one of my central defenders, also has two goals off of corner kicks."
The U-18 Thunder will be back in action on Friday and Saturday at the Autumn Festival at the New Elm Fields in Olathe.
Another Thunder squad - the under-16 girls team - placed second in the U16/17 tournament. They posted a 2-1-1 record and dropped a 1-0 decision to the Blue Valley Stars Celtic.