Terron's touchdown lifts Lions over Braves in
OT
Bonner Springs — Lansing High fullback Brad Terron stood in the locker room drenched in water and rung out his socks.
When he was finished, the overtime hero put them in his cleats and prepared for what was likely to be a victory ride back to Lansing.
In a game filled with memorable plays, Terron had made the final one and given his team a 27-24 win at previously unbeaten Bonner Springs.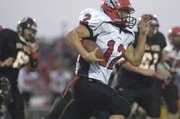 Minutes before, he had scored the game winning touchdown, gone through a series of celebration chants with his teammates and been congratulated by members of the Lansing student body.
"It was an amazing game, we needed it bad," Terron said.
The winning score occurred on second down on an outside-veer run that found the end zone.
"I knew we had to punch it in," Terron said. "It was an amazing block. They sent two people on a blitz and somebody, I am not sure who came in and got a block."
Terron rushed into the end zone.
The score ended a crazy game between Lansing (3-1) and Bonner (3-1), and LHS coach Bill Pekarek said the victory gave his team a much-needed emotional boost.
"Overtime wins are great wins," he said. "They're great if you win 'em. They stink if you lose. It was a great team win for us with everybody pulling together and fighting hard. It wasn't just one guy that did it for us tonight. It was a team effort and a great team win."
The score was 21-14 late in the fourth quarter and Bonner Springs faced a fourth down and one call.
Quarterback Tyler Jock looked like he was going to be tackled on an option play, but pitched it to Johnathan Walker who took the ball 21 yards for the touchdown.
Ryan Bush made the kick to force the overtime.
Bonner had possession of the ball first in overtime and made a field goal.
"We needed a touchdown," coach Lew Kasselman said later. "They got a touchdown and we didn't."
The game had a little rain, fumbles and big plays on fourth down.
Lansing scored first with 9:05 left in the first quarter on a Bobby Hauver play-action pass to Kevin Johnson on a fourth down and nine. Matt Robbins followed with the extra point.
The Lions scored again in the second quarter on a five-yard run by Brenton Smith with seven minutes to play.
Bonner Springs return man Max Barren returned the squib kick 60 yards for the touchdown. Ryan Bush made the extra point.
Lansing led 14-7 at halftime.
In the second half, Bonner running back L.T. Lee scored on a 60-yard touchdown run with 7:20 left in the third quarter. Bush made the extra point.
A penalty gave Lansing a short field after the kickoff. Hauver rushed for the 40-yard touchdown run on a quick fake and then went untouched into the end zone. Robbins' kick was good. Lansing was playing with a short field after an unsportsmanlike penalty on the Braves on the kickoff. On the first kickoff, Lansing had the ball deep in its own territory.
In the fourth quarter, as the rain continued falling, Bonner attempted a field goal attempt that never really elevated into the air.
Bonner later tied the game to force overtime.
When it was over, Lansing players cheered and celebrated at midfield.
"We were hungry and wanted it bad," Terron said. "They played hard and well, but we wanted to prove to everyone that we were the top team in the Kaw Valley League."
The victory helped Lansing edge closer to the top of the KVL standings. Mill Valley remained in first place with a 35-0 victory over Tonganoxie. The Jaguars are the league's only unbeaten squad at 4-0.
Lansing has two league games left. It plays host to Basehor-Linwood (1-3) at 7 p.m. Friday and then plays Mill Valley a week later.
NOTES
- The Lansing defense limited Bonner Springs to 258 yards of total offense, including 197 yards on the ground.
- Bonner Springs outgained Lansing 258-220 in total offense.
- David Dickson and Justin Smith highlighted the LHS defense with 10 tackles apiece. Steve Johnson added nine tackles, Matt Robbins had eight and Stephen Didde and Brendan Becker each made seven stops.
- Robbins converted all three of his extra point tries.
- Mycol Bowen recovered a fumble.
- Eddie Silva recorded his second interception of the season.
- Becker had a sack.
- Brad Terron led Lansing in rushing with 47 yards and a touchdown on seven carries. Brenton Smith had 46 yards and a score on nine carries and Chris Hill picked up 42 yards on nine carries.
- Bobby Hauver completed three of 12 passes for 88 yards.
- Kevin Johnson had three catches for 73 yards and a touchdown.
- Bonner Springs running back Johnathan Walker had 100 yards on 19 carries. Quarterback Tyler Jock was limited to 54 yards on 22 carries.
- Lansing Current sports reporter Chris Wristen contributed to this report.