Lions roll to Louisburg Tourney title
LHS

volleyball squad improves record to 24-1
Two down, three to go.
That's where the Lansing High volleyball team stands in its quest to win all of its tournaments this season after winning the Louisburg Tournament on Saturday afternoon at Louisburg High School.
Lansing also won its home tournament two weeks ago. The Anderson County-Garnett Tournament, substate and state remain on the agenda.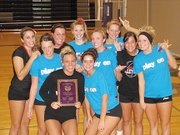 LHS won all six of its matches at Louisburg, including a 25-13, 25-17 victory over Paola, ranked third in Class 4A, and a 25-20, 22-25, 25-23 victory against Blue Valley in the final match of the day. Blue Valley hadn't lost all day until playing Lansing.
Lansing coach Julie Slater praised her players for their effort, noting that in addition to winning six matches in a day, they'd also performed admirably during a difficult two-week stretch.
"We've played 25 matches in just a little over two weeks," she said. "That's a lot. But I'm proud of the girls because they won all six matches, and in that championship match (against Blue Valley) we made some mistakes but we kept plugging away, we hung in there and we did what we had to do to win it."
By going undefeated in the tournament, Lansing - ranked fourth in Class 5A - improved to 24-1 this season.
The Lions had little trouble in their early matches as they cruised past Prairie View (25-10, 25-6), Louisburg (25-23, 25-15), Anderson County (25-12, 25-11) and Fort Scott (25-9, 25-16) before toppling Paola and Blue Valley.
Lansing showed its versatility in the finals against Blue Valley. The Tigers attempted to shut down junior Brittney Lang with a constant double-team and a tall middle blocker, so the Lions turned to sophomores Lisa Angello and Rachel Milnark to carry the offensive load. That was no problem as Angello slammed 11 kills and Milnark pounded seven more.
"Rachel really came through and did a nice job, and that's what you've got to do," Slater said.
A balanced attack made Lansing tough to contain all day. Lang led the LHS offense with 40 kills for the day followed by Angello with 37, Milnark with 18, Julia Bates with 17, Sara Logan with 13 and Kristen Jensen with 12. Jensen also dished out 72 assists while Bates had 38. Angello utilized her jump serve for 16 aces on the day.
The Lions also were solid defensively despite playing without senior Morgan Chiles who missed the tournament with a hip injury. Lang highlighted the defensive effort with 13 blocks. Bates had nine, and Angello and Milnark had five apiece. Milnark also contributed a team-high 43 digs. Jensen followed with 24, Lang had 20, Bates and Breanne Sanders had 17 apiece, Logan and Katie Nietzke each had 16 and Erin Griffen and Angello added 10 apiece.
"They all did their part," Slater said. "Everybody's contributing and doing their job."
Lansing next plays at 5 p.m. Tuesday against Kaw Valley League foes Mill Valley and Tonganoxie at Mill Valley High School. After that, the Lions will have a much-needed week-long break from competition.
"We're excited to be where we're at at this point," Slater said. "We're going to play Tuesday, and then heave a big sigh of relief and take a rest before going down the home stretch. We're through the heavy part of our schedule now. We played Thursday, Saturday, Tuesday, Thursday, Tuesday, Thursday Saturday : that's pretty vicious."