Another chapter in history
Slater becomes 10th Kansas high school coach with 600 wins
Shawnee — Milestones include the word "mile" for a reason - they take time to achieve and don't come easy.
Such was the case Tuesday night at Mill Valley High School when Lansing High volleyball coach Julie Slater reached the 600-win plateau.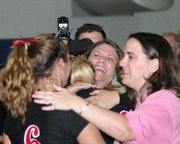 Lansing had to rally to win Match No. 599 in two games against Mill Valley, 25-20, 25-18. Then the Lions needed three games and a last-minute gut check to hold off an upset-minded Tonganoxie squad, 25-15, 16-25, 25-22.
"I tried not to think about it, because when you're up against two quality teams you can come out 1-1, or you can come out 0-2," Slater said. "You've got to be on top of your game."
The Lions (26-1), playing their 26th and 27th matches in 20 days, showed signs of fatigue throughout the night and weren't at their peak performance level, but they relied on mental toughness to pull through.
After coasting through game one against Mill Valley, LHS fell behind 18-12 in game two before closing on a 13-0 run. Then, after rolling to an easy victory in game one against Tonganoxie, Lansing was plagued by mistakes in game two. Meanwhile, THS seniors Tracie Hileman and Sami Franiuk pounded a series of kills and forced game three.
"That second game when we played Tongie we just wanted to get that 600th win over with and get on with it," LHS senior Sara Logan said. "We thought too much ahead."
The Lions refocused in game three and exploded to a 6-1 lead. After the Chieftains rallied to tie the game at 13-13, Julia Bates spiked four kills and Rachel Milnark added three more and LHS opened up a 24-17 lead.
With victory No. 600 seemingly in hand, fans and junior varsity players busted out No. 600 signs. In the meantime, Tonganoxie busted out a 5-0 run before Lisa Angello thumped a match-ending kill.
"I was very emotional when I saw the signs go up," Slater admitted. "I think that kind of motivated (Tongie), didn't it? I was like, 'Oh no.'"
The accomplishment was special for both Slater and her players.
Milnark, a sophomore who has attended Slater's camps since fourth grade, said she was just happy to be a part of the program's storied history.
"To be here with Mrs. Slater : I've known her for a long time," Milnark said. "To know that she's getting 600 wins and that I was here with her helping the team get to that point makes me feel good."
Logan said she's glad the Lions were able to win No. 600 for their coach against a top-notch opponent like Tonganoxie.
"It's nice to play competitive teams and feel like you really earned that win for her," Logan said.
Win No. 600 came almost exactly three years after win No. 500. Slater's 500th victory came Sept. 23, 2004. Three years and two days later - and in her 23rd season at the helm - she has collected another 100 wins.
Slater said she will shoot for 700 wins and then decide how much longer she plans to coach.
"If I'm still loving it and enjoying it like I am right now, then we'll keep going," she said.
At the current pace of 100 wins every three years, Slater noted that the next milestone could be reached during her daughter's senior year.
"It could happen Sara's senior year, which would really be awesome," she said. Then, after a long pause and a grin, she added, "But we won't think about that for a while."
NOTES
Metro Sports reporter Mick Shaffer was at the matches Tuesday to put together a feature package on Slater. To view it, tune in to Metro Sports' High School Roundup at 10 p.m. Friday.