Briggs hits peak as postseason nears
Prairie Village — With every day and every match, Lansing High sophomore Amy Briggs' tennis game is becoming a bit more refined, every stroke a bit more polished.
At Monday afternoon's dual with Kansas City Christian, Briggs put together another steady performance and earned one of the most impressive and hard-fought victories of her young career. Her opponent at No. 1 singles was two-time state qualifier Bre Alholm, and Briggs gutted out an 8-6 victory at Harmon Park.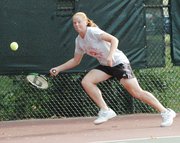 Briggs trailed 6-5 in the match before winning the final three games in which most points were decided by long rallies.
For those who watched the match, it had to have felt eerie. Briggs and Alholm looked almost identical. Both blend hard and soft shots; both push their opponents from side to side; both have the footspeed to recover from mistakes and hit a point-winning shot; both play under constant control and are difficult to rattle.
Put them in matching outfits and dye Briggs' red hair brown and they're practically identical.
"Since we play the same, it makes you have to make shots that you usually don't take," Briggs said. "It was a lot of fun.
"When I play better people," Briggs added, "it makes me play better."
For Briggs, the comparisons are a compliment because Alholm, a junior, is one of the top players in the Kansas City area.
LHS coach Rachel Elkins said that victory and an earlier victory over state tournament player Hannah Konetzni of De Soto are proof that Briggs' tennis skills are progressing nicely.
"I think those two are high caliber players, state qualifiers," Elkins said. "I think she has the confidence to play at that level, and she still continues to place the ball and adjust (to her opponents)."
Briggs' singles record now is 13-4, and that has her in contention for a first-round bye at the regional tournament Oct. 4.
Elkins said Briggs' mental toughness is what has made the biggest difference in the tougher matches this season, and she said that's what gives Briggs the best opportunity to be successful in the postseason.
"You don't find many young players that have her mental toughness," Elkins said. "That's where she has the edge over opponents, plus she has the conditioning and her shots just get better."
LIONS EARN 6-3 WIN
Briggs' singles victory helped LHS claim a 6-3 victory in the dual with KC Christian. She and Ashley Harrington teamed for an 8-7 (10-8) victory at No. 1 doubles; Briana Hall and Katelyn Griffen earned an 8-0 doubles victory; Christine Cordes defeated Suzie Kehler in singles, 8-2; Griffen beat Yulia Stevens in singles, 8-2; and Hall claimed an 8-1 singles victory against Gretchen Meyer.