Leaders of the pack
LHS

boys, girls collect team titles at home meet
Leavenworth — Moments after the starting gun popped, Lansing High sophomore Brandon Craig darted to the front of the pack.
Arms relaxed and his gait smooth, Craig opened up a 100-meter lead : then 200 and 300. Confident and focused throughout, Craig blazed the five-kilometer course at the University of St. Mary Tuesday and won his first individual cross country title in 17:43.
"Mr. Logue told me to stay in front for the first mile," Craig said, referencing LHS coach Errol Logue. "And then I just felt like I could stay (in front) forever."
Photo Gallery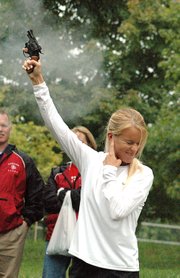 Lansing Invitational cross country
Craig's strong performance was one of many for the Lions as they edged out Basehor-Linwood for the Lansing Invitational championship.
The difference for LHS was a number of runners finished in a pack. Jim Mayes placed 14th in 19:54; Pete LaMoe was 16th in 19:57; Ezra Carpenter was 17th in 19:59; and Griffin Davis placed 18th in 20:05.
In addition, Greg Bremser was 25th in 20:30 and Grant Hinckley finished one spot and one second behind him.
Matt McCurry was the junior varsity champion in 21:00. Teammate Wes Appleget placed second two seconds behind.
Not to be outdone, the Lansing girls also scored a team title by edging Maranatha by six points in the 4K race. Lauren Jaqua, the defending meet champion, battled asthma during the race and placed third in 17:04. Jefferson County West's Taryn Breer won the race in 16:37.
The pack mentality gave the LHS girls a boost, too. Abbey Lozenski, Sarah Nielsen and Melanie Pilkington ran shoulder-to-shoulder for two miles before an ankle injury forced Lozenski out of the race. Nielsen (17:41) and Pilkington (18:06) went on to finish fifth and sixth, however. Julia Winkler placed 13th in 18:35, Cassie Roberts was 20th in 19:07 and Kate Meara rounded out the lineup with a 23rd-place finish in 19:41.
Pilkington said sticking with her teammates made the difference in the race.
"We were running with a pack and we were doing really strong," she said. "Our team was really strong today."
The Lions will look to build on their strong performance when they travel to the Rim Rock Farm Invitational on Saturday in Lawrence. The meet will give them a sneak peek at the course where state will take place.
"I think it'll help to know (the course)," Nielsen said. "But in the end it's still state and it's going to be a totally different atmosphere."