School holds dedication for flag flown over U.S. Capitol
The Leavenworth County School of New Beginnings picked the ideal day to conduct a flag dedication ceremony.
"It was very windy, but that makes it perfect because you can really see the colors and you can see what it symbolizes," school principal Sandy Van Cise said Monday as the American flag glistened and flapped in the sunlight high above her.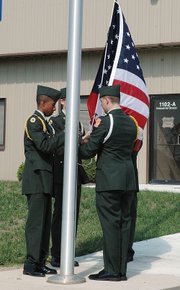 The Captain Jesse Leavenworth Chapter of the National Society of Daughters of the American Revolution presented the flag to the school, located at 1102-B Industrial St. The flag flew over the United States Capitol in Washington, D.C., on Flag Day, June 14, 2007. Now it has a permanent home in Lansing.
The Leavenworth High School Junior ROTC raised the flag; Karen Meredith, the Regent officer for the local DAR chapter, read the flag dedication; the Junior ROTC sang the National Anthem; and Connie Yunghans, Vice Regent for the DAR chapter, read the benediction. Afterward, the crowd of about 100 was invited to a reception inside the school.
The flag ceremony also served as the final step in solidifying the school's new home, Van Cise said. After moving locations twice during the previous school year, the School of New Beginnings settled into its Lansing location in November. After receiving word in April that it would be receiving a flag, the school had a flagpole installed this summer.
"We finally have everything in place," Van Cise said. "We have our playground equipment installed, and our basketball court is done. This is the culmination of everything."
Van Cise said the Stars and Stripes now would become a part of the school's curriculum to an extent.
She said students would raise the flag at the beginning of the day and lower it after school. In addition, she said students in speech classes would lead the national anthem each day.
"Our students have a lot of patriotism already," she said. "This just adds to it. They think it's really neat of have the opportunity to have a flag that was flown over the Capitol."