Rivalry turns ugly as Mill Valley tops Lansing, 4-0
Seven yellow cards, coach's ejection mar intense game
During the relatively short history of the Lansing High-Mill Valley boys soccer rivalry, games never have been lacking in drama, intensity or controversy.
On Thursday night at Lansing Middle School, however, the rivalry was at its ugliest. The 4-0 Jaguar victory was overshadowed by both teams' incessant violations of the Kansas State High School Activities Association's sportsmanship rule.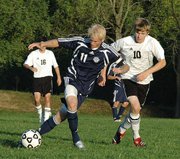 Seven yellow cards - three on Lansing and four on Mill Valley - and the ejection of Jaguars coach Arlan Vomhof were the most serious infractions, although another half-dozen cards easily could have been distributed.
Most of the cards were issued for hard tackles from behind or for players running their mouths at the officials and their opponents. Vomhof said it all could have been prevented if the officials had called a better game.
"Part of it is unfortunately - and I'm not saying it just because I got carded officials are supposed to do certain jobs and they're supposed to maintain a certain level of play," he said. "Some don't handle the game, don't keep it under control from the get-go, things happen and they escalate. Once it gets to a certain point, there's no turning back and then they get card-happy. There was a point where we had three cards, one for us and two for Lansing, within a minute. That tells a lot right there."
LHS coach Randy Brown said regardless of the officiating, players have a responsibility to show more discipline.
"The ref has to assert himself to make sure the game is under control, and he was being very fair about doing that," Brown said. "And when he does that, people have got to shut their mouth. That didn't happen, and he rightfully had to card the guy."
There was more to the game than misbehaving, however. In fact, both teams looked sharp for much of the first half. Lansing played some of its best tactical soccer in weeks and outshot Mill Valley 7-5 during the first 40 minutes. The Jaguars were equally sharp, but they were more efficient at finishing their scoring opportunities.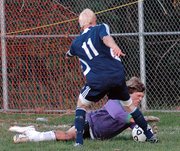 Alex Linthicum put the Jaguars on the board in the 10th minute when he struck a corner kick perfectly and bent it just inside the far post. Then, in the 23rd minute, he took another corner kick. This time it skipped through the box to teammate Nate Friesner. Friesner gathered the ball and blasted a low shot to the far post that slipped under LHS goalkeeper Ethan Alexander for a 2-0 lead.
"Those first two goals were balls coming across the middle that never should have been there," Brown said. "But we've got to score on our end too, and we had chances and didn't put them away."
A player from each team received a yellow card during the first half for hard tackles from behind, but the official looked more like a blackjack dealer during the second half because he was pulling cards so quickly.
First, a Mill Valley player received a yellow card in the 48th minute for a hard tackle. Then the Lansing player was carded 48 seconds later for retaliating. Eleven seconds passed before another Lansing player was carded for running his mouth at the officials.
The tension provided a brief spark to Lansing as it picked up the intensity and strung together two offensive attacks that concluded when Chance Thackston put a shot over the crossbar and had a header snuffed out by Mill Valley goalkeeper Thomas Richmond.
Another few minutes passed, and Mill Valley was whistled for multiple offsides violations. That led to another Mill Valley yellow card in the 60th minute for arguing with the officials. As the player made his way to the team bench, Vomhof received his red card for expressing his disagreement with the official. The Jaguars picked up a yellow card 67 seconds later.
With the card collecting finally done, the Lions and Jaguars got back to soccer and treated the crowd to a flurry of shots, some acrobatic saves by Alexander and a pair of goals by Spencer Nash that established the final score.
Mill Valley improved to 6-3 while Lansing fell to 3-7.
With the exception of the extracurricular activity, Brown said he thought his team played better than the score indicated.
"We were playing very well, and against any other team we would've beat them," Brown said. "But Mill Valley's just that good of a team. They've got strength in all kinds of positions and we weren't able to beat them.
"We need to play like that. We need to play against good teams and play against them well."
Lansing next plays at 6 p.m. Monday at Tonganoxie and then plays host to Basehor-Linwood on Thursday. Mill Valley is back in action Monday against Piper.