BLHS

soccer team leads early, but falls in overtime to De Soto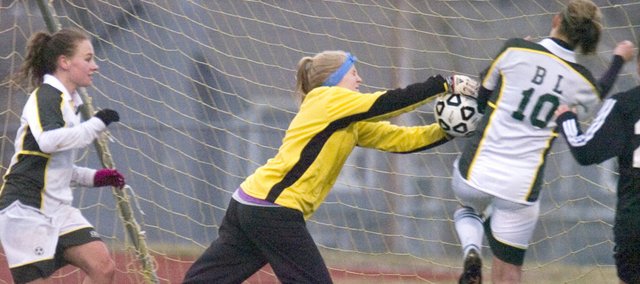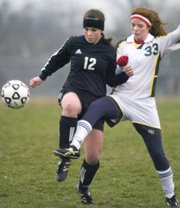 Basehor-Linwood girls soccer players jumped out to a 3-0 lead Thursday night against De Soto.
The Wildcats clawed back with three second half goals, however, and capped the big comeback by winning 4-3 in overtime.
"De Soto is always tough, and it seems as though every time we play them it is a battle to the end," coach Kevin Vincent said.
Jessica Smith, Audrey Brock and Shanna Couch scored one goal apiece for BLHS.
The elements played a role throughout the game, although Vincent didn't see a discernible advantage for either side.
"The weather played a role in the game and was beneficial for both teams," Vincent said. "We had the wind at our backs in the first half and were able to get three goals."
Of course, De Soto took advantage of the same wind to get back into the game. Vincent said he thought his team continued to play well in the second half.
De Soto also started overtime with the wind.
"I thought it was a good showing against a very good De Soto team," Vincent said. "Our goal is to get better each game, and despite the loss I thought we did some good things."
On Tuesday night, the Bobcats dropped their second consecutive game, 3-1, against Piper.
Smith scored the team's only goal off a corner kick from Couch.
"I think that we improved our effort from the last game," Vincent said. "Our defense was stronger. We had opportunities. I think we are getting a little bit better every game."
The Bobats, 2-2, next play Gardner-Edgerton on Thursday.