Bobcats tame Jaguars
Basehor-Linwood softball team wins against Mill Valley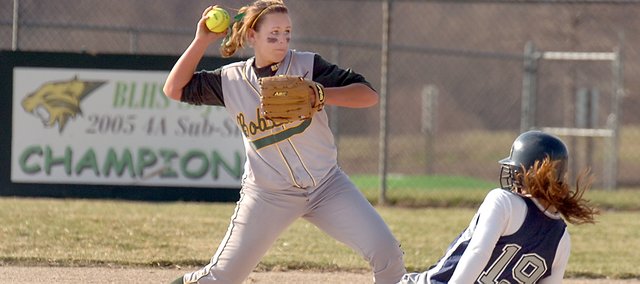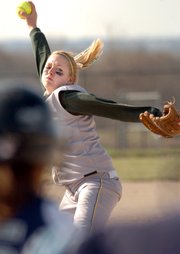 After squeaking by in the first game of a doubleheader against Mill Valley with a 3-2 victory, the Basehor-Linwood softball team made sure it left no ideas of a potential comeback in the nightcap.
The Bobcats raced to a 10-1 fourth-inning lead before earning a 10-3 victory and completing the sweep on Tuesday.
"We strung some hits together in the second game," coach Susan Mayberry said. "We got some good swings in. I like to see us up there attacking more."
Chelsey Patton led the team's success on success, going four-for-four in the second game with a home run, a double and two RBI's.
"It was a team effort; we all played our hearts out," Patton said. "We played focused."
Patton's homerun was a third inning bomb to center field that helped BLHS pull away. The solo shot made the score 4-1 and provided a glimpse of what was to come in the big fourth inning.
Of her blast, Patton said: "I just swung the bat."
The sweep was made possible by the narrow win earlier in the day.
Catcher Codi Schierbaum hit a three-run homer to left field in the second inning, providing all the runs BLHS would need.
Freshman Shelby Pierce got the win in the first game and junior Tiffany Jennings took the win in the second.
"They did pretty well," Mayberry said. "Tiffany did a good job. We cut down on walks."
Jennings didn't need all the run support that she received, as the offense came alive while the sun was setting at the Field of Dreams complex in Basehor.
"Our bats really pulled together," Patton said.
Maggie Schroeder went two-for-three with a two-run triple. Kara Douglas had a double and a pair of RBI's. Every starter reached base in the second game, most doing so multiple times.
"We took better swings today," Mayberry said. "We stayed within ourselves."
The Bobcats will play in a home doubleheader against Santa Fe Trail on Tuesday.