Bonner resident on
TV

show Friday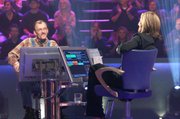 The episode of "Who Wants To Be A Millionaire" featuring Bonner Springs resident George Cooper will show at 4 p.m., Friday, on KSHB, channel 41.
Cooper, a power plant supervisor for Kansas City Board of Public Utilities, auditioned and was selected to appear for a taping of the show last fall.
Cooper said he couldn't reveal just how he did on the show.
"I did good," Cooper said. "I'm happy. I didn't win enough to buy a library named after my grandpa."