Historical Society hears museum tips from pros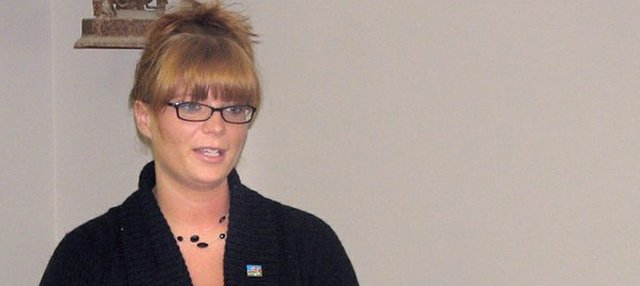 Finding and remodeling a building was just the first step in the Basehor Historical Museum Society's quest to open a community museum.
A workshop this past weekend with a few area experts quickly taught society members launching a museum is more than just displaying grandma's antique collection. It involves mission statements, disaster planning and artifact conservation, along with a slew of other preparations to learn and think about,
It's an acid-free, archival safe, meticulous and - just as they suspected - expensive endeavor.
"I think probably the biggest difficulty in getting a museum started is money," said Joanie Soukup, curator for the Carroll Mansion in Leavenworth and one of the leaders of the workshop. "To do things properly, you're looking at a very expensive building, equipment to house artifacts - all of it is a ton of money."
The simple task of storing items becomes a headache in the museum world when dealing with old and delicate materials. A regular cardboard or plastic box is a big no-no as the tree pulp acid damages artifacts and the plastic discolors textiles. And, Soukup said, a single archival safe storage box for one wedding dress could cost $45 while a map case used to display large maps flat can run about $1,000.
The storage standards make it hard for even the largest museums to keep up, but Soukup said she always tells budding museums to get creative.
"I just tell them to buy what you can when you can, otherwise just do the best you can with what you have," she said.
On an mission
This piece of advice is why the first rule in establishing museum policies, coming up with a mission statement, is so important. The mission statement helps museums decide which artifact donations to accept and which items to reject because even something as valuable as history can be a burden to a historical museum when there's no means to store it.
It seems the Basehor Historical Society is ahead of the game when it comes to that first rule because a policy committee has been meeting almost every Monday since January to work on a mission statement. Members commented that this bit of instruction from Soukup and Laura Phillippi, site supervisor for the Lansing Historical Museum, was one of the most helpful during the workshop.
"I always thought museums just took everything that was old," historical society member Ken Massingill said. "But, you can't. You have to very selective."
Even with proper care, items continue to deteriorate because of age, but the whole point of having a museum is to allow others to see and learn from these artifacts. A certain amount of risk and a lot of extra care is taken when displaying items.
Sunlight is blocked with UV filters sealed over windows and special light bulbs are installed to minimize damage.
Laundry becomes a completely different chore when it comes to 100-year-old textiles. Soaps and water is, in most cases, the enemy, and garments are often sandwiched between two screens and vacuumed for cleanliness.
Textiles are also picky when it comes to climate control - 20 to 30 percent humidity and 70 degrees is ideal, Phillippi said.
Disaster planning
Then, after all of that work, a fire, flood or unwanted guests such as insects or mice can destroy it all in a matter of moments. Practicing fire drills, prioritizing artifacts, proper storage, installing smoke detectors and water sensors and establishing a general disaster plan is essential.
"Be aware of your risks," Phillippi said. "Good housekeeping will prevent a lot fires."
But the list doesn't end there. The museum staff will have to work on displaying items properly and uniquely, rotating displays, archiving and numbering items and of course recognizing and showing appreciation for the backbone of the organization - the volunteers.
"There are so many facets to conservation and preservation," historical society member Lila White said after the workshop Saturday. "There's so much to learn. I think most people are clueless to how much is involved. It's not just getting an artifact and putting it on display."
Getting ready
The focus of Basehor Historical Museum Society for the past year has been on remodeling the building, which is still far from complete, but shifting the focus a bit to operations is an indication they will continue to forge ahead despite the many snags they've encountered along the way.
"It's more than just collecting stuff," Carla Crawford, another historical society member said.
Soukup added that all museums - big and small - struggle just the same, so starting one from the ground up is a huge accomplishment and contribution to a community.
"With a small community history museum - this is your story and where you're from," she said. "It's that personal connection. It is relevant to you, whereas general history museums may not be. It could be a wonderful thing for Basehor to have not only to look at their past but have a place where the community can meet and experience the past together."