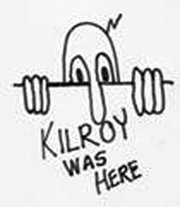 Anybody here remember Kilroy? During the unhappy years of World War II, he would make people laugh just by seeing the words "Kilroy Was Here" and the funny little guy with the long nose looking over a fence. He was everywhere any service man had been, so those words were seen all over the world. As kids we drew these and added them everywhere,so you can imagine how it got to be a game with all of us as well as the service men who really had a reason.
In 1946 the American Transit Association through its radio program "Speak to America" sponsored a nationwide contest to find the real Kilroy. A trolley car was to be given to the person that could prove himself to be the real Kilroy and how it all got started. There were many Kilroys who claimed the honor, but the winner of the contest was James Kilroy from Halifax,
Mass., with evidence of his identity.
During the years of the war, 1942, '43, and '44, women had to take jobs as riveters building ships because all the men were in the service. They were paid on piecework, and got paid by the rivet therefore the rivets had to be counted. It was his job to crawl in tight areas of the ships and count the number of rivets and put his check mark so they would not be counted twice. The riveters got smart and removed his check mark, and many times got paid twice. The foreman became upset about the wages being paid to the riveters and asked Kilroy to investigate. He found that they had been removing his checkmarks of semi-wax lumber chalk. So that is when he decided to write in king size letters, "KILROY WAS HERE" by his check mark. Eventually he added the sketch of the chap with the long nose and big eyes peering over the fence. Once he did that the riveters stopped trying to erase his check marks.
James Kilroy put the trolley in his front yard for his nine children to play in.