Preparations begin for all-day kindergarten
Roundup introduces incoming students to Linwood Elementary School pilot program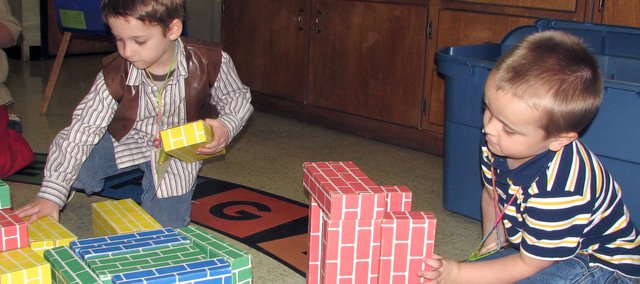 Children got their first glimpse of life as kindergartners this week during Kindergarten Roundup at Linwood Elementary School.
However, this group's first school experience will play out a little differently than any of the students before them. These incoming kindergartners make up the first class of all-day kindergartners to pass through the Basehor-Linwood school district.
The pilot program, approved by the Basehor-Linwood school board in January, will begin this fall at LES. The program will allow parents to choose between going to a full day of kindergarten or sticking with a half-a-day for their children.
"There are maybe some parents that are undecided at this point, but I think the majority are going to be opting for the full day," LES principal Cindy Hiebert said. "I know there's a desire and there's all the research that backs all-day kindergarten."
While the young students will find the appeal in the extra recesses, lunch at school and more time to play with friends, parents and teachers are looking to the pilot for increased learning and socialization.
April Shivers, a paraprofessional at LES who helps out in the kindergarten classroom and also has an incoming kindergartner, said the program would be beneficial. From observing the class every morning, she said she sees firsthand the amount of material crammed into the three hours that kindergartners currently attend school. After fitting in snack time, recess and specials such as art, physical education and music, there is even less time for the core subjects.
"Literally, they have an hour and a half to do actual school work," Shivers said. "It's very fast paced. By 11 o'clock, I'm exhausted. Next year, they'll be able to take their time. I think it's really going to be a good thing."
Another parent, Stefanie Brown, who has twin daughters going into kindergarten, said she is still a little unsure of the program because the children will be going from no school to an all-day session. However, she said despite her reservations, they are going to give it a try.
"I think it might be a good idea to get them ready, but they might need more of a transition to get them started," she said.
The three half days of Kindergarten Roundup introduces the children to their first educational experience through singing, drawing, art projects, listening to stories and screening for hearing, vision, fine motor skills and speech, Hiebert said. Children will also spend time rotating to different centers around the classroom such as a computer, science and art stations.
"The staff wants to give the kids a chance to experience kindergarten so they're familiar with it and it alleviates anxiety," Hiebert said. "This is the first step in their education. We want it to be as positive as possible and want them to be excited to come to school in the fall."
The expected schedule for all-day kindergarten was presented to parents in a meeting last week and will include reading, math and specials in the morning in order for half-day children to spend at least 25 minutes in specials. All-day children will receive about 50 minutes of specials each day and get more writing, science and social studies learning time.
Bev Riley, the current LES kindergarten teacher who has been in the district 27 years and will be retiring at the end of the school year, said the children most likely would be introduced to the idea of all-day kindergarten on the last day of roundup when all of the routine screenings has been completed. They will also have a chance to formally meet their new teacher for next year, Kay Gordon, who is currently a math teacher at Basehor-Linwood Middle School.
"They are very ready for a whole day," Riley said after the first day of Kindergarten Roundup Tuesday morning. "Especially the kids that have gone to preschool, a half day of kindergarten is very anticlimactic and almost disappointing, so I think it's going to be better for them. This is really something that should have happened 20 years or more ago."
Even with a few parents still on the fence with the pilot, Hiebert said the feedback has been overwhelmingly encouraging. The program's effectiveness will be re-evaluated after the first semester of next year and if successful, gradually introduced to the other two elementary schools in the district as space becomes available.
"I've heard 100 percent positive comments," Hiebert said. "Parents are really excited to give their children this opportunity."