Tonganoxie youth battling cancer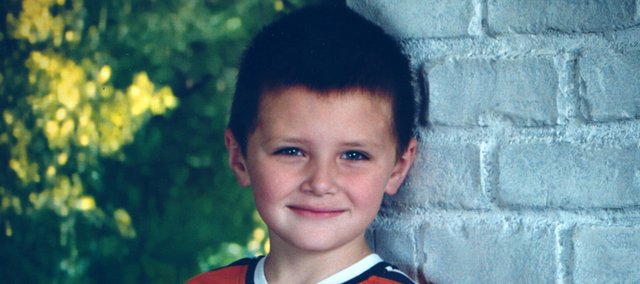 Tonganoxie — Most second-graders are full of energy.
Not Devin Stuart, who is enrolled at Tonganoxie Elementary School.
His mother, Tammy Lynn, said he's been sick off and on the last two months. He's even taken himself out of recess because of fatigue and, Lynn said, she had trouble getting Devin up in the mornings to go to school. On several occasions, she had to pick Devin up from school during the day because he was not feeling well.
A week ago, Devin "pretty much collapsed" while with his mother at a local store, Lynn said. It took some time for Devin to catch his breath and get back on his feet.
At that point, Lynn took her son to St. John Hospital in Leavenworth.
After running several tests, doctors discovered a tumor in Devin's chest.
He immediately was taken to Children's Mercy in Kansas City, Mo., for further medical attention.
Even more tests - blood work, bone marrow tests, a spinal tap and the like - were administered at Children's Mercy.
Eventually, it was found that Devin has lymphoma type B. Lymphoma is a type of cancer.
Doctors, though, told Lynn that of the various types of cancer to be diagnosed with, "it's the type of cancer you want to have."
That's because there's an 80-percent survival rate, doctors told Lynn.
"There's about a two-year process before we can call it remission and five years before cured," Lynn said.
And for the other 20 percent, most live two years and then must deal with infections after that.
In addition, it's a common cancer for diagnosed children in Devin's age bracket, Lynn said.
At Children's Mercy
As of midday Tuesday, Devin was staying in the pediatric intensive-care unit at Children's Mercy.
He was undergoing chemotherapy Saturday. In fact, a port has been placed under Devin's skin on his right side. One side of the port is used to draw blood and the other is for chemotherapy and IV treatment.
The tumor, which is larger than his heart, has put pressure on his right lung.
"That was why he was real lethargic," Lynn said.
Devin currently is on a ventilator, but his mother hopes her son will be out of ICU in the next few days.
When he does wake up, he has a tube in his throat," Lynn said. "He's scared and he cries."
It's been a tough sequence of events for Devin and his family, but Lynn said they are in the right place at Children's Mercy.
"It's really the best place he can be," Lynn said. "It's the best hospital I've ever been in."
A helping hand
Jim Bothwell, whom Lynn works for at First State Bank and Trust in Tonganoxie, has opened a savings account at the bank for Devin.
Anyone interested in donating to the fund may do so at the bank's U.S. Highway 24-40 location. Bothwell said anyone at the bank may assist residents interested in donating.
Local builders also have gotten together and are helping Lynn move into a new duplex where air will be cleaner for Devin when he returns to Tonganoxie. The family's current home does not have central air, Lynn said.
"We're in an older home," she said. "It (the new duplex) will be a better environment for him to come home to."
Several people have asked Lynn what they can do to assist her, but she's unsure at this time.
"Everyone asks what they can do to help and day by day, we're still learning things that we need," Lynn said.
She hopes to qualify for state funding so that she'll be able to return to work and have someone watch over Devin while she is at work.
"My co-workers, community, I can't thank them enough for all they are doing," Lynn said, explaining that many people have offered their thoughts and prayers as well.
At the elementary school, Devin's teacher, Natalie Frese, said plans are in the works to help the family. "They know what a strong kid Devin is," Frese said, referring to his classmates. "And you know how resilient children are as well.
"Right now we're just thinking a lot of positive thoughts."
Lynn appreciates that, as well as all the assistance that's been offered in Tonganoxie.
"We really appreciate everything, the phone calls and the prayers," she said. "If I lived in the city, I would not have this help."
More like this story