Commissioners to wait in signing corridor agreement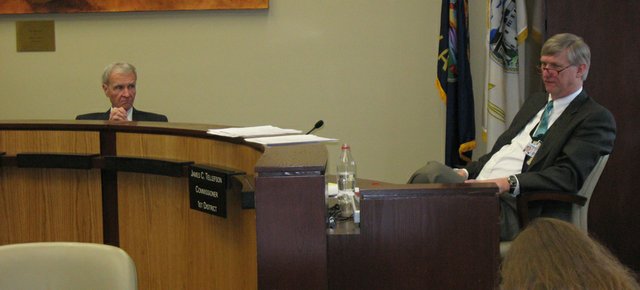 County Commissioners considered signing off on an implementation plan for the U.S. Highway 24-40 Corridor Management Plan but decided to wait until the plan has been officially ratified by the Basehor and Tonganoxie city councils.
According to the draft plan, which includes input from and directives for the Kansas Department of Transportation, the Mid-America Regional Council, the City of Basehor, the city of Tonganoxie and Leavenworth County, the agreement "is intended to serve as a framework for cooperation among the communities along the corridor in the mutual implementation of the management plan."
The plan serves to manage growth, restrict access and maintain traffic flow along the U.S. 24-40 corridor.
Under the agreement, local municipalities would notify KDOT of applications for development, and KDOT would provide corridor funding to certain projects that conform to the corridor management plan.
"I like the plan," Commissioner J.C. Tellefson said, " : I encourage the three of us (commissioners) in signing it, with the understanding that we'll clean it up."
For more on this story, check the Web site later this week.