KCKCC

debaters win fifth national title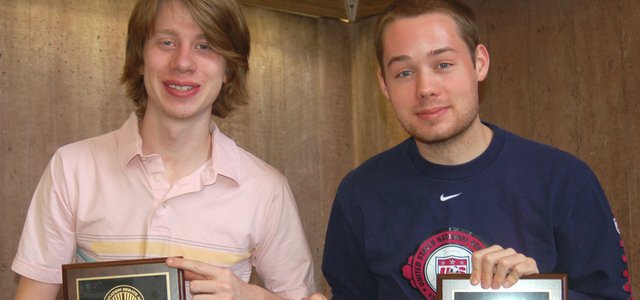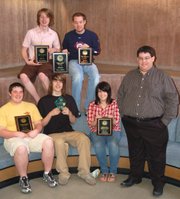 The Kansas City Kansas Community College debate team has won their fifth straight national debate championship.
Trailing Southwestern of California going into the season-ending Cross-Examination Debate Association (CEDA) national tournament in Wichita, sophomores Chris Rohan of Lansing and Andy Montee of St. Joseph, Mo., turned in All-American performances to rally KCKCC to the team title.
By finishing five to three in the preliminary rounds, Rohan and Montee became the first KCKCC team to advance to the elimination round helping KCKCC earn its first Public Debate award, one of only three awarded by CEDA.
"Their accomplishment is truly amazing, akin to a community college qualifying for the NCAA basketball tournament," said Coach Darren Elliott in a press release. "The elimination round is always dominated by juniors and seniors from four-year colleges and universities and with only 64 teams advancing from a starting field of 190, it is tough."
Their performance earned both All-American honors for their service to school, community and debate and Scholastic All-American honors and sealed the McClintock Trophy as CEDA Community College national champion for an unprecedented fifth straight year. No team had ever won more than three in a row until last year when Rohan and Montee helped KCKCC make it four in a row.
No. 5, however, was tougher and more exciting.
"It was more fun because it was so close at the end," said Rohan. "Winning at the last tournament was like a photo finish or hitting a shot at the buzzer. This year was more of a rebuilding year and we got off to a slow start. It took a while to find out how we were going to argue."
The tepid situation in the Middle East was the national debate topic, which Montee said offered a wide variety of avenues for arguments but also required more research.
"It took more work but we felt we were ready," said Montee.
Two other KCKCC teams competed in the national tournament Noah Fugate, of Tonganoxie, and Miranda Nichols, of Lansing, and Austin Montee, of St. Joseph, Mo., and Liz Smith, of Washington. Other team members who competed during the season were T.J. Dubin, of SM North, Jason Foster, of Blue Valley Northwest, and brothers Melvin and Nick Kirkendoll of Emporia. All are freshmen except Dubin and Foster.
"The CEDA championship is awarded on the basis of how your team does for the entire year so everyone contributed," said Elliott. "There was a tremendous amount of work and effort put in combined with the efforts of all our alumni and coaching helpers." Elliott was assisted by longtime aide Adrian Self and two alums of Elliott's program, Clay Crockett and Peter Lawson.
Not to be lost in the unprecedented fifth straight title shuffle were a couple of other KCKCC firsts including the prestigious national CEDA Public Debate Award for being second in the nation in advancing debate in the public sector. The award is given to the top three out of more than 100 member schools.
KCKCC also won a regional award for a third place finish behind Missouri State and Wichita State in the Kansas, Oklahoma and Missouri region.
One hurdle remains to be cleared the National Phi Rho Pi Debate Tournament for community colleges to be held in Chicago the third week in April where KCKCC will take the No. 1 ranking in its bid for a fifth straight Phi Rho Pi championship. Unlike the national CEDA tournament where nearly 180 of the 190 teams were from four-year colleges and universities, only community colleges will be competing in Chicago.