Commission split on plan for growth along U.S. 24-40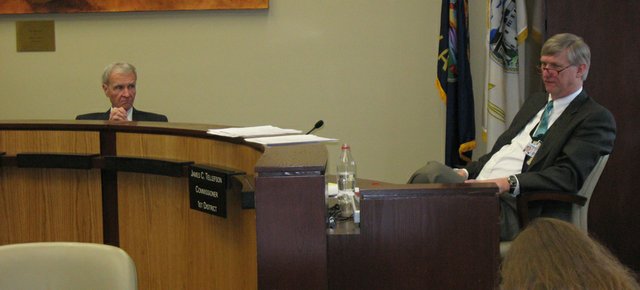 A plan intended to manage growth and maintain appropriate traffic flow along U.S. Highway 24-40 in southern Leavenworth County received mixed reactions from Leavenworth County Commissioners on Thursday.
Commissioners Clyde Graeber and J.C. Tellefson (Dean Oroke was not present) agreed not to sign off on an implementation plan for the U.S. 24-40 Corridor Management Study until the Basehor and Tonganoxie city councils have officially ratified the plan, but the commissioners did not agree on much else.
Graeber said the plan, which includes input from and directives for the Kansas Department of Transportation, the Mid-America Regional Council, the city of Basehor, the city of Tonganoxie and Leavenworth County, would give KDOT too much authority and could limit opportunities for economic development along the highway from 142nd Street to County Road 1.
"I don't want anything that's going to slow down growth, should it have the opportunity to occur," Graeber said.
Tellefson, said, however, "I like the plan : I encourage the three of us (commissioners) in signing it, with the understanding that we'll clean it up."
He said it was especially important to have some type of planning document in place so that businesses cannot connect to the highway in a haphazard fashion.
Tellefson noted the high number of automobile collisions - including several that resulted in fatality - on 24-40, and he said the agreement on the table would lay a framework to prevent more accidents in the future by managing growth and limiting access on and off the highway now.
County planner Chris Dunn agreed.
"(The plan) supports, in many ways, what we're trying to do in the county," Dunn said, ": to preserve the (traffic) flow and let the cities grow out from their boundaries at a higher-level density instead of a sprawling out and having low density, not so inappropriate land use is taking up what could potentially be the best commercial corridor in the county for potential development."
Dunn did acknowledge that an enforcement mechanism for limiting access on the U.S. 24-40 corridor was lacking in the plan.
Under the draft agreement submitted Thursday, local municipalities would notify KDOT of applications for development that may impact the highway, and KDOT would grant corridor funding to certain projects that conform to the corridor management plan.
"There's an implied carrot but not a very big implied stick," Dunn said.
Basehor Planning Commission Chairman John Flower, who spoke at Thursday's meeting, noted a current development in the city that has been on hold for nearly two years, as the developer waits for direction from a final corridor management plan.
Under the plan now, access into the particular development would be limited to a right-in right-out basis using reverse frontage roads.
"There is - as best I can determine - little to no willingness for KDOT to accept compromise," Flower said, arguing that a possible big-box retailer, faced with limited access, might look elsewhere to build.
Ultimately, the commission voted to delay signing the implementation agreement until action was first taken in Tonganoxie and Basehor, the two municipalities Graeber said would be most affected by the plan.
The Tonganoxie council did not enter into a local agreement supporting the plan in a meeting Monday, stating it wanted certain changes made to a couple of intersections before members would accept it. The plan met approval from the Basehor council in a work session on March 17.
The county commission is scheduled to take up the issue today at 2:30 p.m.
In other business Thursday, the board:
¢ Heard a quarterly report from Dunn concerning how to best notify affected county residents of impending adjustments to the official federal flood plain map, reconfigure the county Board Of Zoning Appeals in order to comply with state statute and establish a county codes court.
¢ Heard a quarterly report from Anne deShazo, an administrative contact with the Kansas Juvenile Justice Authority, on the 1st Judicial District's fiscal year 2009 budget.
DeShazo said $469,795 has been allocated for the district's graduated sanctions programs in 2009 - up 21 percent from the current budget cycle - and noted the possibility of a $216,432 increase in funding pending approval from the state Legislature.
¢ In a quarterly report from special buildings director Tim Goetz, voted, 2-0, to extend a contract with Honeywell Security for the county Justice Center's alarm system and directed Goetz to prepare requests for proposals for janitorial services in county buildings.
In business Monday, the board:
¢ Directed County Administrator Heather Morgan to schedule final interviews with two health insurance brokers for the county - Kansas City, Mo.-based Lockton Companies LLC and Reilly & Sons Insurance of Leavenworth.
Commissioners did not entertain a bid from the county's current broker, CBIZ Benefits & Insurance Services Inc. of Leawood.
¢ Approved, 2-0 (Oroke was not present), a bid from O'Reilly Auto Parts for a rotary lift for the Public Works Department at $3,870.
¢ Heard a quarterly report from Emergency Management director Chuck Magaha on recent emergency events in the county, the possibility of procuring a competitive grant from the U.S. Fire Administration and an update on the planned countywide communications upgrade.
¢ Heard a quarterly report from Community Corrections director Mikel Lovin, who updated the commission on a state review of the department in March and on the department's application for funding, which, in fiscal year 2009, will be decided on a competitive basis.
¢ Met for 10 minutes in executive session with Lovin and Morgan to discuss legal issues and another five minutes to discuss personnel matters.