Council seeks solutions to intersection safety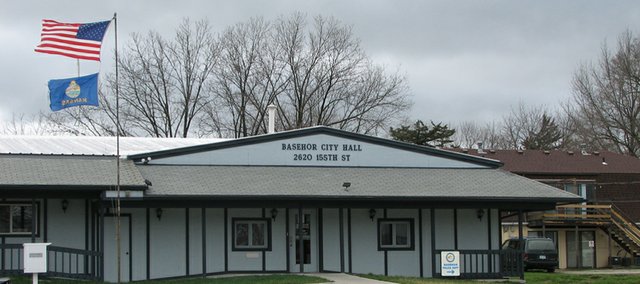 The intersection at 158th Street and U.S. Highway 24-40 in Basehor has been on people's minds for a long time.
While the safety of the crossroads has been questioned for years, the latest fatality accident at the intersection, which claimed the life of a Tonganoxie teenager and injured a Basehor-Linwood High School student last February 14, has had city officials brainstorming ways to make the spot a little safer.
The Basehor City Council took some promising action Monday night by authorizing, 4-0, the purchase of flashing indicator lights for the north and south side of 158th Street approaching 24-40.
Westar has already installed a flashing light on top of the existing stop signs at the intersection, City Administrator Carl Slaugh said, but council members agreed that it's not as effective as they envisioned.
"Whatever we have down there doesn't catch my attention," council member Jim Washington said.
An option for signage at the intersection is to install the typical 'Stop Ahead' sign with dual 12-inch flashing red LED lights about 500 feet back from the intersection.
However, council president Terry Thomas presented another option that might prove to be a little more eye catching. Thomas saw a unique sign while he was traveling in another state, prompting an Internet search. The sign he saw had eight individual LED lights around the perimeter of the stop sign itself. He presented some research to the council as well as the company that produces the sign.
"I don't remember where I saw it exactly, but it definitely got my attention," he said.
Gene Myracle, city superintendent, said he will be researching both options to determine if they will fall under the allotted $7,000.
Other projects planned for the intersection may include rumble strips and reflective paint. Leavenworth County gave the go ahead to grind rumble strips into the pavement, but that project is proving to be more difficult than Basehor Planning Commission Chairman John Flower, who spoke at Thursday's meeting, noted a current development in the city that has been on hold for nearly two years, as the developer waits for direction from a final corridor management plan.
Under the plan now, access into the particular development would be limited to a right-in right-out basis using reverse frontage roads.
"There is - as best I can determine - little to no willingness for KDOT to accept compromise," Flower said, arguing that a possible big-box retailer, faced with limited access, might look elsewhere to build.
Ultimately, the commission voted to delay signing the implementation agreement until action was first taken in Tonganoxie and Basehor, the two municipalities Graeber said would be most affected by the plan.
The Tonganoxie council did not enter into a local agreement supporting the plan in a meeting Monday, stating it wanted certain changes made to a couple of intersections before members would accept it. The plan met approval from the Basehor council in a work session on March 17.
The county commission is scheduled to take up the issue today at 2:30 p.m.
In other business Thursday, the board:
¢ Heard a quarterly report from Dunn concerning how to best notify affected county residents of impending adjustments to the official federal flood plain map, reconfigure the county Board Of Zoning Appeals in order to comply with state statute and establish a county codes court.
¢ Heard a quarterly report from Anne deShazo, an administrative contact with the Kansas Juvenile Justice Authority, on the 1st Judicial District's fiscal year 2009 budget.
DeShazo said $469,795 has been allocated for the district's graduated sanctions programs in 2009 - up 21 percent from the current budget cycle - and noted the possibility of a $216,432 increase in funding pending approval from the state Legislature.
¢ In a quarterly report from special buildings director Tim Goetz, voted, 2-0, to extend a contract with Honeywell Security for the county Justice Center's alarm system and directed Goetz to prepare requests for proposals for janitorial services in county buildings.
In business Monday, the board:
¢ Directed County Administrator Heather Morgan to schedule final interviews with two health insurance brokers for the county - Kansas City, Mo.-based Lockton Companies LLC and Reilly & Sons Insurance of Leavenworth.
Commissioners did not entertain a bid from the county's current broker, CBIZ Benefits & Insurance Services Inc. of Leawood.
¢ Approved, 2-0 (Oroke was not present), a bid from O'Reilly Auto Parts for a rotary lift for the Public Works Department at $3,870.
¢ Heard a quarterly report from Emergency Management director Chuck Magaha on recent emergency events in the county, the possibility of procuring a competitive grant from the U.S. Fire Administration and an update on the planned countywide communications upgrade.
¢ Heard a quarterly report from Community Corrections director Mikel Lovin, who updated the commission on a state review of the department in March and on the department's application for funding, which, in fiscal year 2009, will be decided on a competitive basis.
¢ Met for 10 minutes in executive session with Lovin and Morgan to discuss legal issues and another five minutes to discuss personnel matters.