Cushing names 2007 Employee of the Year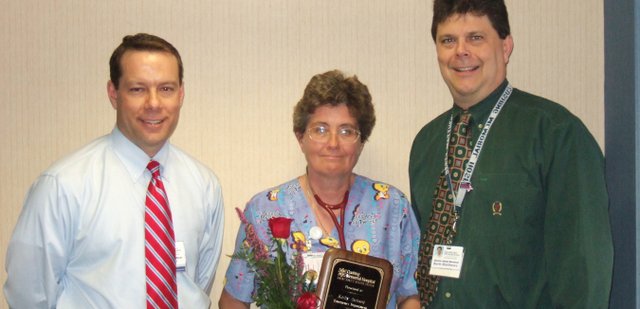 During a recognition ceremony for Cushing Memorial Hospital's 2007 Employees of the Month, Kathy Jackson, R.N., was named the hospital's 2007 Employee of the Year. The reception took place at the hospital Monday, March 31.
"Kathy has always been wonderful to work with, very responsive and knowledgeable," said a co-worker. "She is a true professional in every sense of the word."
The nomination form filled out by her manager read that, "Patients absolutely love Kathy. She is driven to make sure that her patients are taken care of in the best manner. It does not matter if they are young or old, Kathy treats every person with the same respect. On follow-up calls I hear that 'Kathy was just wonderful with my mother,' or 'Kathy had the patience to deal with my 2-year-old who would not cooperate with the doctor'."
"I feel very honored to be named Cushing's Employee of the Year," said Jackson. "But I feel everyone at Cushing deserves this honor. My job in the ER would be very difficult without all the excellent ancillary departments who bring the whole picture together."
In addition to receiving the Employee of the Year award, Jackson was given one day of paid vacation and a $150 gift certificate.
Cushing Memorial Hospital 2007 Employees of the Month include: Diana Bishop, Laboratory; Gary Kenton, Emergency Department; Dorina Schonherr, Medical/Surgical; Tammie Gauger, Patient Access; Tiffany Parker, Pharmacy; Phyllis Reed, Behavioral Health; Patricia Clark, Behavioral Health; Laurie Duncan, Health Information; Mary Bean, Health Information; and Marla DeJonge, Business Office.