Former foster child urges participation in
CASA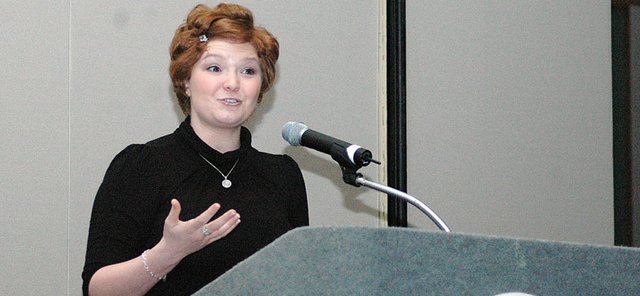 Kansas City, Kan. — Tiny candles flickered and glowed on the tables at the Jack Reardon Convention Center on Tuesday as the Holy Spirit Concert Chorale sang "I'll Stand By You."
Moments later, the guests at the fifth annual CASA Promise of Hope Luncheon learned that the 420 lit candles at their tables represented the roughly 1,200 children that CASA - Court Appointed Special Advocates for Children - has helped locally in the past year.
"For each candle, there are three more abused children in Johnson and Wyandotte Counties who don't have a CASA representative," said Judy Frye, president of CASA of Johnson and Wyandotte Counties. "Your support can help us reach more children so instead of being alone, frightened or hurt, they have a friend and advocate to help them live in safe and permanent homes."
The point of the luncheon, which was emceed by NBC Action News' Christa Dubill, wasn't simply to inform Kansas Citians about the program. It was also to ask for help. Guests at the free event were invited to donate financially to the organization, and they also were asked to give of their time.
CASA volunteers are specially trained adults from the community who are appointed by a judge to speak up for children in court. CASAs make sure the child's needs are met so they have safety and stability in their lives. CASAs oftentimes serve as a mentor for the child. CASAs also observe the child and family situations and report their observations to the judge for assessment.
The ultimate goal is to help children find permanent, safe homes.
An example of the program's effectiveness came in the form of the luncheon's keynote speaker, Ashley Rhodes-Courter.
Born in North Carolina in 1985, Rhodes-Courter was taken away from her neglectful, drug-addicted mother in 1989 at age 3. She spent the next nine years of her life in and out of 14 different foster homes and nine schools. Some foster families were loving and supportive, while others were abusive.
"I was placed in homes with convicted pedophiles, drug abusers, people who were arrested for domestic violence : so you can imagine that my stint in foster care was definitely not a pleasant one," she told the crowd.
A CASA volunteer helped expose Rhodes-Courter's situation, led the legal charge to terminate her parents' authority over her, and eventually helped her find an adoptive family.
Now 22, Rhodes-Courter recently graduated from Eckerd College with honors, and in 2007 she was one of 20 students named to USA Today's All-Academic Team. She received the Golden Brick Award for outstanding youth advocacy, and she is an accomplished writer, having recently released her memoir, "Three Little Words," which chronicles her journey through the foster care system and the way her CASA helped her find a family.
"At the end of the day, I'd like to think my story has three parts," Rhodes-Courter said. "First was the time when I felt like I was lost in the foster care system. Second is when my CASA, Mary Miller, came into my life. And third is when she helped find a family for me."
Rhodes-Courter now resides in St. Petersburg, Fla., but she spends the bulk of her time traveling the country as a motivational speaker and advocate for change in the child-welfare system.
One way she advocates is by encouraging others to join CASA. She pointed out that during her ordeal more than 200 people were responsible for some aspect of her case, including "73 child-welfare administrators; 44 child-welfare caseworkers; 19 foster parents; 23 attorneys; 17 psychologists, psychiatrists and therapists; five guardian ad litem staff; four judges; four court personnel; three abuse registry workers; two primary case workers" - and one CASA member, Miller.
"Out of more than 200 people that interacted with me during my time in foster care, Mary Miller was the one person not paid, yet she was the one that got me out of abusive foster homes and ensured that I was on the path to finding a permanent family," Rhodes-Courter said.
Rhodes-Courter encouraged those in attendance to contribute to CASA in some way.
"Children need to get out of the foster care system as soon as possible," she said. "We need families as much as we need food and oxygen. Without any of these, we wither and die."
"I'm living proof of the work that you do and how important it is," she added.
Alyssa Perbeck, development director for CASA of Johnson and Wyandotte Counties, said the luncheon raised about $36,000 for the organization.
She said CASA currently has about 220 volunteers, but it needs more. She said for every child CASA has served in the past year, there are three more who need help.