Lansing student is runnerup in national essay contest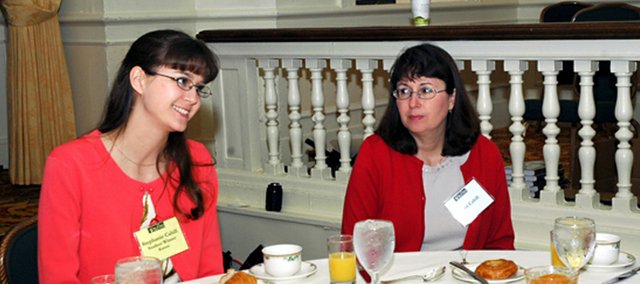 A Lansing student is the runnerup in this year's "Being an American" Essay Contest sponsored by the Bill of Rights Institute of Arlington, Va.
Stephanie Cahill, who is home-schooled by her father, Timothy, received the $2,500 second-place prize in the national contest.
Barbara Walkowiak, a junior at Lincoln East High School in Lincoln, Neb., was the overall winner.
Two area students received honorable mention recognition awards of $250 for the honorees and their teachers: Alexandra Skarka of Lawrence Free State High School, Lawrence, Kan.; Colin O'Neill of De Soto High School.
Contest winners and their teachers also received an all-expense paid trip to Washington, DC, where they were honored at an April 3 awards dinner featuring former Virginia Governor James S. Gilmore, III. During the Saturday, April 5 program, students also had an opportunity to witness American citizenship in action as they toured Washington, D.C., including visits to the Supreme Court and National Archives.
"With 13,000 students writing essays for consideration, these students have much to be proud of. The winning essays on American citizenship and values were both thoughtful and thought-provoking and should be seen with pride by their communities and schools," said Bill of Rights Institute President Victoria Hughes.
The Being an American Essay Contest is supported by a grant from the John Templeton Foundation (http://www.templeton.org). High school students from 19 states and the District of Columbia were eligible to participate this year, with total prizes amounting to nearly $60,000.
To enter the contest, students had to address the following question: "What civic value(s) do you believe are most essential to being an American, and how can you personally put those values into practice?" Their answers were to be based on their understanding of American history, the Founding Fathers, and the founding documents such as the Constitution, Bill of Rights, Declaration of Independence, and Federalist Papers as well as the student's own role as a citizen in a free society, and the challenges and responsibilities that role entails. Among the civic values explored in submitted essays were justice, civility, tolerance, respect, initiative, courage, perseverance, and equality.
"For those who have given up on America's young people, we invite their attention to this year's winning essays. When challenged to explore 21st century American citizenship in light of the values that animated America's founding, these students demonstrated that they not only understand American history and traditions, but know how to apply the lessons and values of 18th and 19th century America to contemporary society," Hughes said.
In her essay, Stephanie Cahill, who selected "Initiative" as the civic value she thought most embodied the American character, wrote, "Benjamin Franklin observed, 'Genius without education is like silver in a mine.' My duty is to initiate the mining of my mind as I pursue understanding of American history."