Military officers, journalists trade places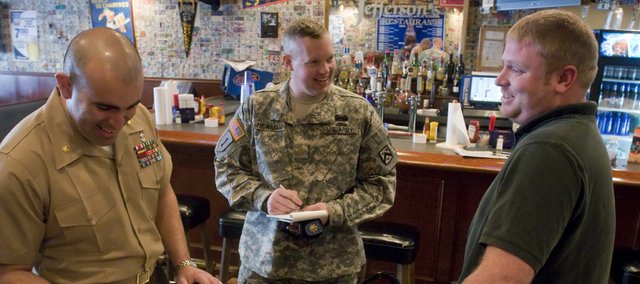 Lawrence — The pack of reporters Thursday afternoon on Massachusetts Street wore camouflage.
This group of military officers and students at Fort Leavenworth's U.S. Army Command and General Staff College traded places for the afternoon with a group of Kansas University journalism students and tried to chase news stories about downtown Lawrence.
"I won't be working for the paper long, if that's all I could get them to answer," joked Army Maj. Troy Newman, originally from Inverness, Fla., after he interviewed a manager at Joe-College.com T-shirt store.
Newman and Marine Maj. Raul "Sal" Salcido, from Laguna Beach, Calif., interviewed staff at shops, restaurants and bars about business in the wake of KU winning the national basketball championship on Monday. The two will work with KU junior communication studies major Brian Wheeler to develop a story.
"I think since they've started taking this class, they understand (the media's perspective) a little more," Wheeler said.
Salcido and Wheeler conducted their first interviews Thursday afternoon.
"It's about building relationships. It's about establishing a rapport with somebody and getting them to tell you their story," Newman said.
Newman and Salcido both have served combat tours in Iraq.
The 16 officers have worked this semester with the KU class Media and the Military, taught by assistant professor Barbara Barnett. The KU students earlier this semester had to act as military spokesmen and spokeswomen and conducted a press conference for the officers, who will likely have to address professional media in their military careers.
KU and Fort Leavenworth are working together in a host of areas.
Jim Thomas, deputy director of the Department of Command and Leadership Fort Leavenworth's Command and General Staff College, said students from both sides were learning lessons about the relationship between the media and the military.
"The whole purpose of the class was to get them to appreciate each other's perspective," he said.
The class is funded by part of a grant from the McCormick Tribune Foundation, aimed at improving military and press relations.
- Staff writer George Diepenbrock can be reached at 832-7144.