Storms knock down trees, cause other damage in Basehor and Tonganoxie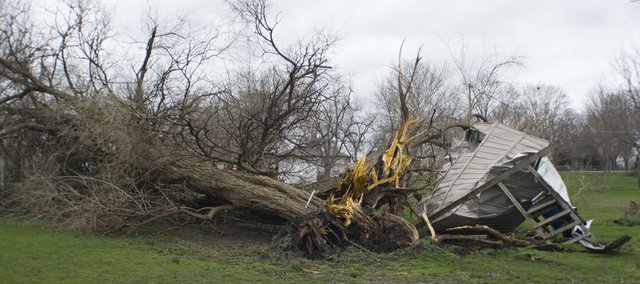 A storm hit north Basehor on Thursday, uprooting trees and knocking out power for roughly two hours.
According to Basehor police Chief Lloyd Martley, a 40-foot tree was uprooted from the ground.
"It appears the storm came diagonally from 166th and went diagonally across city of Basehor, doing quite a bit of damage to the north end of town," Martley said.
In addition, wind picked up a trampoline and threw it into a roof. The trampoline eventually ended up in a power pole, the chief said. The storm, which came through Basehor between 7:30 p.m. and 8 p.m., caused significant damage to power lines overall.
In Tonganoxie, fire department Captain John Callaghan said firefighters removed a few fallen trees from city roads because of Thursday's winds. A few residents reported of room damage also.
In rural Tonganoxie, winds pushed a barn near Dempsey Road onto the road, but county crews removed it, Callaghan said.