4-H families sacrifice Saturday for service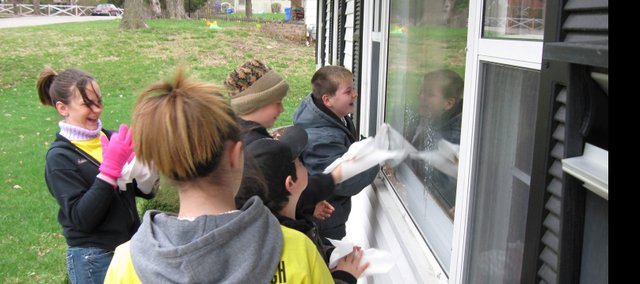 Dozens of 4-H Club youths and their families volunteered Saturday morning to help Leavenworth County residents in need of help for thorough spring cleanings.
Even though the weather was anything but spring-like - there were snowflakes, freezing rain and drizzle throughout the morning - 14 teams of volunteers raked leaves, mopped floors and washed windows for around 30 residents throughout the county that are unable to do the chores themselves.
The seventh annual Youth Service Day gave 4-H'ers a chance to pick up yards and help people out. And, more importantly, said Beth Hecht, 4-H agent for the Leavenworth County Kansas State Research and Extensions Office, it gave participants a chance to visit with people in the community who need a hand.
"The big thing is for the kids to spend some time with them," Hecht said.
And as a gift, volunteers brought a potted daisy and a card signed by each team member with them to every site they visited.
A Tonganoxie delegation, led by Jenny Thurston, Catherine Patrick and Jenny Williams, made its first stop at the home of Doris Shockley, who has lived at her home on Laughlin Street for 50 years.
Shockley put the eight 4-H'ers - and one future 4-H'er, 3-year-old Johanna Williams - right to work polishing windows on all sides of her house.
"Washing windows at my house is a lot of work," the long-time resident of Tonganoxie said. " : I have 32 pieces of glass on my back porch alone."
"I still do my own housework," Shockley added but with her arthritic fingers, she said, "Taking the storm windows off is about the only thing I can't do : They (the 4-H'ers) are a big help. They're nice kids, and their mommas are too."
When the 4-H brigade arrived at their second job of the morning on Willow Bend Circle, homeowner Marilyn Bundy remarked, "This is overwhelming. I've never had anything like this happen to me before."
Bundy, who lived on South Second Street for more than 25 years before her husband, Lonnie, died in 2004, needed to have those hard-to-reach places in her apartment dusted.
The 4-H'ers quickly scrubbed Bundy's countertops and furniture, vacuumed her carpets and wiped down her windows before returning to the Leavenworth County Fairgrounds for pizza and a GPS scavenger hunt.
Despite the morning's work, Elizabeth Patrick, 12, of Tonganoxie, said she had a lot of fun.
"They were easy to please, thankful and really nice," she said of the two ladies the team served.
Catherine Patrick said of the event, "It's great. It gives (4-H'ers) an opportunity to help out the community."