BLHS

duo on winning side of Metro Classic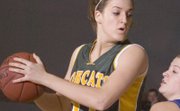 Cassie Lombardino and Noah Simpson capped a 2008 basketball dream season by taking part in the Metro Classic. Even better, the pair helped bring a victory to Kansas for the first time in five years.
Kansas defeated Missouri 83-71 on Saturday night in the classic, which was played at Mid-America Nazarene University.
"It was mostly about having fun," Lombardino said. "It was cool to win, because Kansas hasn't won in five years. But it was just an honor to play."
Lombardino was not fazed by the elite competition. She scored 10 points to go along with eight rebounds and two blocked shots.
"I thought she played extremely well," Simpson said. "Early on she was trying to get in the flow of the game. Obliviously the speed of that game is different. When she got in the flow, she played well."
Simpson said Lombardino stacks up well against the Metro's best.
"When she is on the floor, she is extremely hard to guard for anyone. Missouri's post had a tough time matching up against her because she can run the floor, post up and also hit the 15-footers."
Lombardino and Simpson were both selected by a committee consisting mostly of head coaches. Simpson co-coached the game with Kristin Mallory of Lawrence. Lombardino and Simpson became the first player and coach from Basehor-Linwood to participate in the game.
The team had two practices before the game. Simpson said he and Mallory instituted a simplistic, pick-and-roll-type offense.
Lombardino agreed with her coach that she started slowly, attributing it to nerves. She said it took time to adapt to the pace of the game. She said the experience of playing against the top competition would help her in the transition to the college game at Topeka's Washburn University.
"It's a whole different style of game and pace," Lombardino said. "It was a lot of fun. The more I play, the more I will be ready."
Blue Valley North's Callan Taylor led Kansas in scoring with 18 points. Olathe South's Jadhken Kerr had 14.
Simpson said it was good to be able to coach Lombardino one last time. Lombardino said being selected was a great honor and having her coach experience it with her made it easier.
The honor caps what was a charmed first season for Simpson, who led the Lady Bobcats to the Class 4A State Tournament.
"I am extremely excited," Simpson said. "I definitely didn't think I would be coaching in an all-star game in my first year. I'm very happy to do it and that the KC area coaches felt we got the job done. None of it could have been possible without the assistants, the players and all the hard work. It definitely ends a great first year."