BLHS

to present one-act fairy tale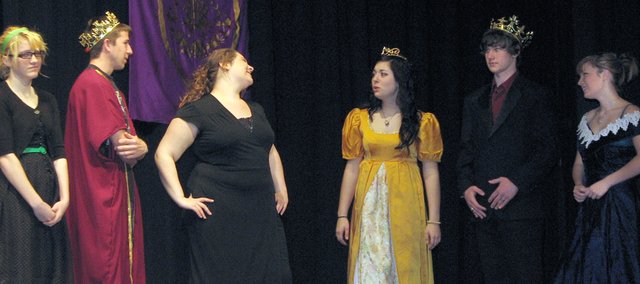 There may be a ball, a fairy godmother and a royal family, but this Cinderella story is far from traditional.
This weekend, 30 Basehor-Linwood High School actors and actresses will present "If the Shoe Fits," by Karen Woodward, a one-act play adapted from the fairy tale "Cinderella." The often silly and modernized tale features a much savvier Cinderella and a menagerie of new characters.
Director Rebecca Knowles said the students have been working on the play for about five weeks, and while it's the shortest of the three shows presented during the school year, it will surely keep the audience entertained.
"This one just was something that was a little unique and not you're same old, same old story," Knowles said. "It has some unexpected moments."
Junior Anne Dickinson, who plays Cinderella, said she enjoyed the relaxed cast of "If the Shoe Fits," the different storyline and her character.
"I like it," she said. "It's a little bit more slapstick comedy and not the same storyline and has a twist at the end. I think she's (Cinderella) a little bit smarter than the Cinderella of the original story."
Skylar James, junior, plays the lead male role of Prince Owen. He said one of his favorite parts of the play is the dance his character and Cinderella share at the ball, which also happens to be one of the only non-comedic scenes.
"Most of the play is funny, then you have the one romantic part," he said.
Both actors also noted that the audience will most likely enjoy the antics of the Python Gang, a group of misfits who attempt to foil Owen's wedding plans, and the prince's fan club, a group of adoring women who spring into action to help Owen.
See the play
"If the Shoe Fits" will be presented at 7 p.m. Friday, April 18, and Saturday, April 19, in the Basehor-Linwood High School auditorium. Tickets are $3 for adults and $2 for children and students.