And now for the icing on the cake, 43 years later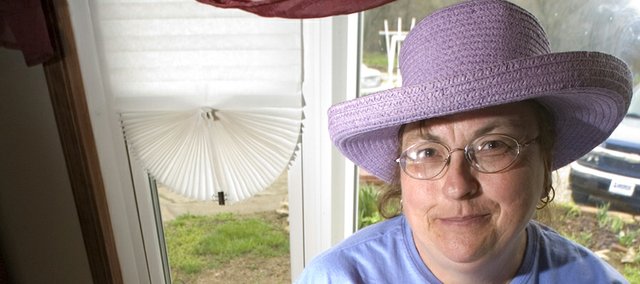 From the archives of the Bonner Springs Chieftain rose an article, circa March 1965, of a young junior at Bonner Springs High School and her budding cake decorating abilities.
The young woman, known as Meri Sprung at the time, showed off the four-tier cake, decorated with dark-pink roses and green garnish, that she baked and decorated for a class project in Future Homemakers of America. It was in that article where Meri expressed the hope that one day she would get to do the same for her own wedding cake.
Well it's been 43 years and that dream has been fulfilled as Meri Kelley planned to walk down the aisle Friday night with a cake of her own design ready for the celebration.
"The cake is simple and beautiful," Meri said. "I wanted to do it because it's something that allowed me to fulfill a dream."
Meri practiced decorating cakes after school.
"Our mother wanted to make sure we got to express the talents God gave us, and one of mine was cake decorating," she said.
Years after the article appeared in the Chieftain, Meri got married, but she wasn't able to make the cake for that wedding. She moved to Baltimore and began raising her three children but never lost sight of her cake-decorating dream.
Just like back in high school, Meri returned to cake decorating in an odd fashion. She began working as a receptionist for the Baltimore Playboy Club, where she met many celebrities, including Hugh Hefner. When the staff found out about her baking skills, she was asked to make cakes for the club's special events. Those cakes included many varieties of bunnies, the Playboy logo, as well as a few unmentionable body parts.
She also started decorating cakes for other clients on the side. Through word-of-mouth, Meri was getting business for seven to 10 cakes a week.
Eventually, Meri moved back to Kansas and now lives in Tonganoxie with her new husband, Dave O'Hare. Together the two have 10 grandchildren, to whom she is known as "Mamba." When Dave asked her to marry him, she said she knew right away this time that she wasn't going to miss out on fulfilling her goal.
Her wedding cake was a four-tier white cake with a cream, butter frosting. She said she likes the taste of butter frosting best, even though it's harder to work with. The trick, she said, was letting all the layers cool off completely before starting the icing process.
After each tier was iced, she began decorating using a parchment-decorating bag that funnels icing through different style tips. The cake is ivory in color and topped with a group of real white roses.
With her days of Playboy cakes behind her, Meri said she's happy to be back to just making cakes for her family.
"It gives me the ability to express myself," she said. "I can't paint or draw, but I can sure decorate a cake."