Murder trial continued until next week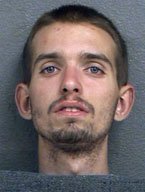 Monday's scheduled start for the trial of Robert Haberlein, one of three defendants charged with the November 2005 slaying of Robin Bell, has been continued until April 28.
The one-week continuance for Haberlein, 19, Kansas City, Kan., was due to another murder trial in Wyandotte County District Court that continued into Monday.
The delay means the trial of John Backus, Bonner Springs, another defendant charged with the murder and the only one who was older than 18 at the time of the crime, has been continued until a time to be later decided, a clerk for the court said Monday.
The other defendant charged with the murder of the Bonner Springs north Dollar General Store manager was Amber Russell, Lenexa, who just turned 18. Russell struck an agreement with the Wyandotte County District Attorney's Office to be charged as a minor in exchange for her truthful testimony. No court date has been set for Russell's trial.