Community honors veterans with parade
George and Martha Washington and Paul Revere - or at least costumed versions - joined hundreds of spectators and participants at the 10th annual McLouth Patriots' Day Parade Saturday.
Although it's a little known holiday in Kansas - Patriots' Day is officially observed in the Commonwealth of Massachusetts and the state of Maine each year but is less common in the Midwest -don't tell that to the residents of McLouth.
Photo Gallery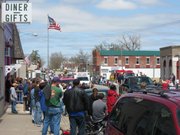 McLouth Patriots' Day 2008
McLouth Patriots' Day 2008
They've been celebrating the holiday ever since the city's recreation commission decided to honor veterans and remember the American Revolutionary War 10 years back, McLouth resident Ruby Harwood said.
"It puts McLouth on the map for a day anyway," Harwood said.
Cliff Weeks, a parade committee member, added, "You just don't tell the veterans thank you enough."
The all-day event featured food stands, antique cars, a soapbox derby by McLouth Cub Scout Pack 81 and a quilt exhibit by the Kansa Prairie Quilters guild of Oskaloosa.
Young parade-goers bounced around an inflatable moonwalk and slid down a giant slide before historical re-enactors, military personnel, area politicians, McLouth High School students and members of various civic organizations from across northeast Kansas marched down Union Street in the main parade.
State Rep. Lee Tafanelli, R-Ozawkie, asked those present before the parade to "keep in your thoughts and prayers all the men and women that serve our country and fight terrorism across the world."
He said he has attended the McLouth parade all but one year, when he was serving in Iraq with the Army National Guard.
"It's a phenomenal event and one we look forward to each year," Tafanelli said.
Maj. Eric Lindsay, an Army officer stationed at Fort Leavenworth who watched from the reviewer's stand, said after the parade, "There's no shortage of people that are willing to pat you on your back and say thanks. It's phenomenal. I have chills going down my back right now."
Maj. Joe Chestnut, also stationed at Fort Leavenworth, added, "Nobody comes to your civilian job to throw you a parade. This is really special."