Congressional hopeful speaks to local Republicans
Members of the Leavenworth County Republican Women had the opportunity to meet a prominent counterpart Monday at the Riverfront Community Center in downtown Leavenworth.
Lynn Jenkins, Kansas State Treasurer and a candidate for the U.S. House of Representatives from the state's 2nd Congressional District, campaigned before several dozen area Republicans at the group's monthly meeting.
"Most of you are well aware that I have a new challenge," Jenkins told those present, "and that is returning republican representation to the 2nd District."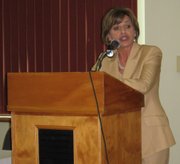 The 44-year-old certified public accountant will face former Republican Congressman Jim Ryun in an August primary, but her main focus, she said, is removing U.S. Rep. Nancy Boyda, D-Kan., from office.
Jenkins called Boyda "politically out of step" with residents of the 2nd District, which encompasses all of Leavenworth County and a large swath of eastern Kansas, including Topeka and Manhattan.
She introduced herself as a sixth generation Kansan, who grew up on a dairy farm north of Holton.
Jenkins graduated from Kansas State University, where she earned a degree in accounting and studied economics.
She has been married to her husband, Scott, for 24 years, and they have two children.
Jenkins served in the Kansas House of Representatives and the Kansas Senate before becoming State Treasurer in 2003.
She said her experience as treasurer will help her tackle what she saw as the most pressing issue for her constituents: the economy.
Jenkins mentioned that she supports the Bush tax cuts and her top priority will be keeping those in place.
She said she would fight to eliminate the death tax, and vowed, "I will not raise your taxes."
On the spending side, Jenkins said Congress must do something to combat the nation's $9 trillion debt.
"I don't have a quarrel with the defense spending," she said, "but I have a quarrel with the pork barrel spending."
She denounced using federal earmarks that do not have a federal purpose.
In regard to illegal immigration, another issue Jenkins said was paramount in the upcoming elections, she quipped, "I'm opposed to amnesty. I believe we need to secure our borders immediately and stop the hemorrhaging, and : give businesses the tools they need to have a second line of defense."
Questions from the audience for Jenkins ranged from her stance on the "life issue" to whether she would vote for decreased spending or setting a timeline for troop withdrawal in the war in Iraq.
Jenkins said, while in the Kansas House, she supported a partial-birth abortion ban and a bill requiring parental consent for abortions. As far as the war is concerned, Jenkins said she knows a lot about accounting not about "prosecuting a war" and would defer to military experts on the ground.
When asked by Leavenworth resident Greg Beck what distinguishes her from Ryun, who held the 2nd District seat for five consecutive terms before Boyda won the vote in Nov. 2006, Jenkins said spending issues.
"I've never voted for a budget that's created a deficit situation," she said, adding, "I just don't see how we can spend money you don't have : You have to live within your means. You and I have to do it; the state has to do it; and it's high time our (federal) government did it."
The Leavenworth County Republican Women will next meet May 19 at the Riverfront Community Center and will host Ryun and Jenkins together in a July meeting.