Torneden files for commission
Sen. Pine announces re-election bid
The race for 3rd District Leavenworth County Commissioner now has more than one contender.
Marvin Torneden, a Linwood Republican who filed with the County Clerk's office March 17, will join Bonner Springs Republican John Flower in seeking the 3rd District seat to be vacated in January 2009 by commissioner Dean Oroke. Torneden is a lifelong Leavenworth resident.
He has worked as a custodian for the Basehor-Linwood School District for the past five years and owns a farm in rural Leavenworth, where he raises beef cattle and hogs part time.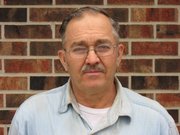 Torneden has also served as a volunteer firefighter for the Reno Township Fire Department since its inception, and he worked for the township doing road maintenance for several years as well, so, he said, "I know a lot about roads."
When asked why he was running for county commissioner, Torneden said, "I want to keep the government for the people, and I want to work for the people in my area."
This will be Torneden's second attempt to win a commission seat, following an unsuccessful bid against Oroke in 2004.
With his filing, a primary election will, in fact, be held Aug. 5, with the general election to follow Nov. 4.
Pine files for re-election
State Sen. Roger Pine, R-Lawrence, has filed to seek re-election.
"It has been an honor to serve the people of my district, and I hope I have earned trust and support enough for another term," said Pine, who is serving in his first four-year term.
State Rep. Tom Holland, D-Baldwin City, has indicated he may challenge Pine for the senate seat in the November general election.