4-H project introduces farm animals to children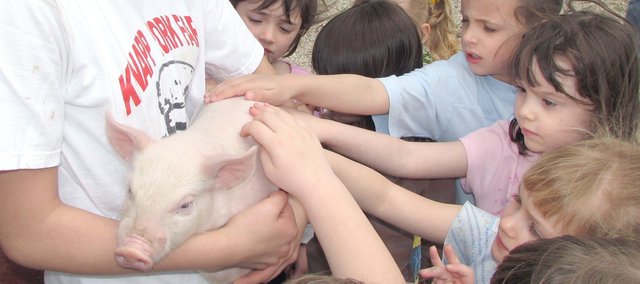 Emily Knapp, 15, cradled a baby pig while children from Little Friends preschool crowded around to give it a pat. Smiles and giggles erupted when it squealed, snorted and wiggled in Knapp's arms.
The field trip to the farm Monday was a first experience for many of the preschoolers, and allowing the youngsters to learn something new was one of the goals of Knapp's 4-H leadership project.
"This is the fifth year we've done this here," Knapp said, referring to her grandparents' farm on Evans Road and the nearby farm of her aunt and uncle on County Road 2. "It's a good leadership project because you get to work with kids. It takes time to organize, but there are not a lot of places around that do this kind of thing."
The Leavenworth County Fair may still be more than three months away, but the leadership project is something 4-Hers work on all year, Knapp said. Preliminary plans for her project were turned in during the month of January, then again in March. Participants must be 14 years old before starting a leadership project and the project must involve organizing an event that helps people. Knapp said participants often choose to work with charities or other local organizations, but individuals can also set their own personal goals for their projects.
"This is the ultimate project," she said. "It embodies everything 4-H is supposed to be about."
After visiting the pigs, the children learned about the different breeds of pigs, as well as the different kinds of feed and random porcine facts through a poster Knapp had made. Farm-themed coloring sheets and a look at a tractor were next before the young students piled into a wagon for a hayride over to the next farm to check out the Gelbvich cattle.
A group of dogs met the tractor as it pulled up at the next farm, where the children were able to see two cows and their twin calves, a heifer and a bull with a ring in his nose. Knapp held up and explained the different tools used in caring for the cattle as well as the feed.
Melinda Knapp, Emily's mother and a teacher at Little Friends Preschool, said the students are learning about farm animals in class, so Emily's leadership project was a perfect fit for them.
"This is our field trip to bring that home," Melinda Knapp said. "It gives them a first hand look at farm animals."
The children finished out the day with pig- and cow-shaped cookies, and milk and free time around the farm. Emily said she thought the project went well, but will now change her focus.
Recommendation letters from the preschool teachers as well as her performance in an interview with a judge a few weeks before the fair will all go towards her final score.
"Interview skills are a major part," she said. "It's just like a job interview - that's how you're told to prepare for it."
The leadership project competition may not be the same as competing in the show ring, but an excellent score and ribbon are still the goals, Emily said. And, while she prefers the fair's animal events, Emily said, besides working with children, there was another reason why she chose this particular project.
"I like this leadership project because it lets me be with the animals," she said.