Lansing
DAZE

,

BBQ

contest coming up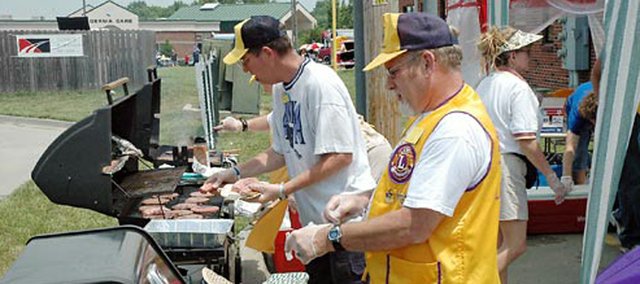 Lansing — Two of the Lansing's biggest annual events - both packed into the same weekend - will take place this week.
The fourth annual Brew, Blues, & Bar-B-Q will begin Friday, May 2, and continue on Saturday, May 3. The 2008 Lansing DAZE Festival will be Saturday, May 3, and feature a variety of family-fun activities. Brew, Blues, & Bar-B-Q will feature three Kansas City Blues bands: Trampled Under Foot (at 7 p.m. Friday); Scotty Boy Daniel (11 a.m. Saturday); Lonesome Hank & the Heartaches (7 p.m. Saturday).
There will be a food and beer tent open on Friday and Saturday.
The Lansing DAZE festival will feature a craft show, car show, children's inflatable rides, magicians, clowns, art show, and a quilt show. As a finale, there will be a fireworks display on Saturday evening.
Both events will take place in Lansing's Towne Center at the intersection of Kansas Highway 7 and West Mary Street. Parking will be available along West Mary and in the new Lansing Elementary School parking lot. A shuttle bus will be running from the school to First National Bank.
Additional weekend events are scheduled during Lansing DAZE.
On Saturday, May 3, the Kiwanis Club will host its Pancake Breakfast from 7 a.m. to11 a.m. at the Lansing High School cafeteria, 220 Lion Lane. The cost is $5 in advance, $6 at the door. Children 12 and under pay $3 at the door. For more information, contact Dick Cameron at (913) 727-5388.
On Sunday, May 4, the Lansing Historical Society's "On the Run" 5K race will start and finish on East Kansas Avenue across from the Lansing Historical Museum. Contact Linda Lockwood at (913) 651-3847 to register.
Also on Sunday, May 4th the Women's Only Criterium Bike Races will take place. Contact Roger Harrison at roger.f.harrison@gmail.com for more information on these six races, which take place at the Lansing High School grounds, 220 Lion Lane. Preregistration is required. The first race begins at 10 a.m.