Fort commander praises state's support of military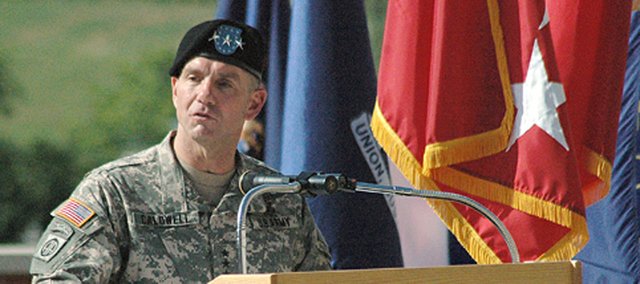 Fort Leavenworth — On April 24, I had the honor of being in Topeka to witness Gov. Sebelius sign into legislation the Interstate Compact on Educational Opportunity for Military Children. I am proud to say that our State of Kansas is the first state to enact this legislation designed specifically to reduce the stress and strain on military families and children who could live in as many as 10 different locations in their lives as military dependents and attend at least that many different schools. This legislation allows students to transfer credits and classes from one state to another. Additionally, it eliminates rules that constrain transferring high school students from participating in sports and extracurricular activities. As a parent of school age children who recently moved to Kansas, I greatly appreciate this important piece of legislation that helps our men and women in uniform, their families and most importantly - the students.
This year the great state of Kansas introduced three programs that directly improve the lives of military families and veterans. The first program was offered as an amendment to the College Opportunity and Affordability Act of 2007 by Congresswoman Nancy Boyda. This important program will allow service members and their dependents to automatically receive in-state college tuition costs where they are stationed across the nation. The second program, the Army Wounded Warrior Education Program, is a joint effort between the University of Kansas and the Army. This program offers select soldiers assigned to the Army Wounded Warrior Program the opportunity to return to college to complete their basic degree or pursue a graduate degree. Upon completing the degree program, the soldier can remain or return to active duty and use these new skills to contribute to their nation and the Department of the Army. Third, the most recent program, the Interstate Compact on Educational Opportunity for Military Children will help thousands of new students actively participate and contribute in their new schools.
With our Armed Forces making such incredible sacrifices in this era of persistent conflict, it makes all of us proud that the people of Kansas are doing so much for our soldiers and their families. I hope that other states follow the visionary leadership of Kansas and enact similar legislation. As the Commanding General of the Combined Arms Center and Fort Leavenworth I am fortunate to be a soldier in a state that puts such a high priority on supporting our military families.
Lt. Gen. William B. Caldwell IV is commander of the U.S. Army Combined Arms Center and Fort Leavenworth