In honor of champs
North Carolinian pays homage to
KU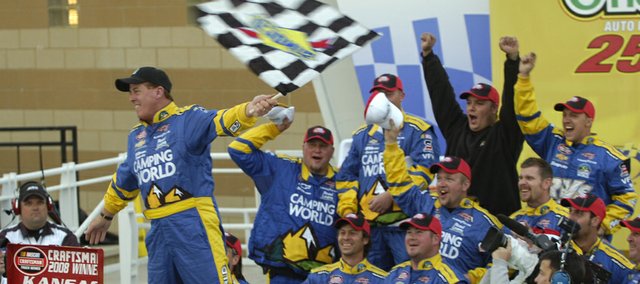 Photo Gallery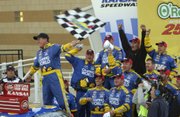 Kansas Speedway NASCAR Craftsman Truck Series
A NASCAR Craftsman Truck Series race was Saturday, April 26, 2008, at the Kansas Speedway.
Kansas City, Kan. — Roy Williams wasn't the only North Carolinian rooting for the Kansas University men's basketball squad in the NCAA national championship game.
NASCAR Craftsman Truck Series driver and Davidson, N.C., resident Scott Lagasse Jr. has followed the Jayhawks for the last few years and was in the heart of Davidson and UNC country when KU faced both schools in the NCAA Tournament.
"I was luckily at home for the Final Four games with a bunch of buddies," said Lagasse, who raced in Saturday's O'Reilly Auto Parts 250 at Kansas Speedway. "I sat there with some of them through the Davidson game that were Davidson fans, and for the UNC game there were some UNC fans, so there was a little tension. But it was fun."
As a way of showing his status as a Kansas fan, Lagasse sported national-championship logos and "Rock Chalk Jayhawk" on and around the bed of his truck.
"College basketball isn't really as big in North Carolina as some people think. It's nothing like the fans here in Kansas," Lagasse said. "The KU fans are as hardcore as they come. I've had people run me down and say, 'Hey man, that's cool. Can we get a picture?' It's actually kind of been neat for me, and it's an honor to be able to carry the KU logo. With as much tradition as they have, it's just a pretty cool deal, and I am dying to go to a game (at Allen Fieldhouse)."
Lagasse got hooked on the Jayhawks by his business manager Jeff Tryon, a Lawrence High alumnus and 1984 KU grad in public administration.
"Through him and Linda Nicholson (wife of Brad Nicholson, sponsor of Lagasse's truck) I've kind of been an adopted fan of KU," Lagasse, driver of the No. 20 Nicholson Group truck, said. "You've got to love how their coaching staff handles things and to take that many great players and put them together and get them to play that strong together is pretty impressive."
The connection between driver and manager goes back well before their business relationship. Lagasse's father and Tryon actually raced together in the '80s.
"I raced with Scottie's dad back 20-some years ago and known Scottie since he was a little boy," Tryon said. "He's been around racing his whole life and hung around us while we raced. They asked me, through my marketing background - I was a marketing manager for General Electric - and joined up to help him."
Like Lagasse, Tryon was in the heart of Tar Heel country during the Final Four.
"It was kind of a lonely feeling in North Carolina to root for the Jayhawks," Tryon said. "But this is kind of our way to celebrate and pay tribute to the Jayhawks and kind of have our own parade here at the Kansas Speedway."
Brad Nicholson, the truck sponsor, was all for putting the large logo on the bed of the truck and along the side panels - despite being a Missouri fan.
"I thought it was a great idea. I have a lot of friends who are big KU alums," Nicholson said. "I've been to a lot of games at Allen Fieldhouse. It's one of the most incredible places to watch a basketball game. I was at the Final Four with my wife, and nobody around us wouldn't have known any better than I was anything but a Jayhawk fan."
Lagasse is in his first full year racing in the Craftsman Truck Series - he ran a partial schedule in 2005 - and won the ARCA RE/MAX race last year at Kansas Speedway. The success didn't carry over to this year as Lagasse crashed on lap 86 and finished in 30th position.
Ron Hornady Jr. won the Craftsman Truck race from the pole position. It was the first victory at Kansas Speedway for the three-time and reigning NASCAR Craftsman Truck Series champion.