Horses pulling up lame at auction
Closure of Texas slaughterhouses reverberates throughout equine market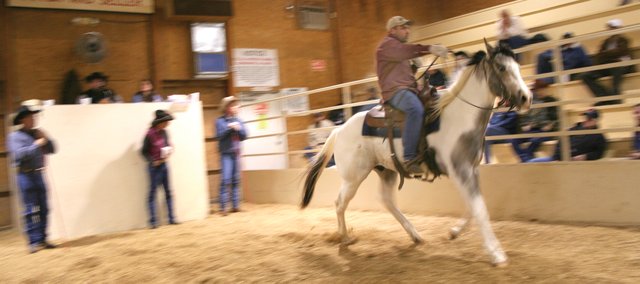 Linwood — Still shaggy in its winter coat, the colt pirouetted, almost daintily, in the wood shavings on the arena floor.
Its rider and owner, Pat Saffer of Melvern, Kan., deftly guided the horse, turning first this way and then that, showing how it responded to gentle inputs with the reins.
Although Saffer would say later that the young chestnut was no great shakes as a horse, to the untrained eye horse and rider presented a momentary picture of the almost-mythical union that they say occurs between a man and a horse.
Then auctioneer Brandon McLagan rapped his gavel to start the proceedings, and any such romantic notions were shattered like fragile glass in a crescendo of staccato exhortations.
It was Monday night at the horse sale at Campbell's Sale Barn east of Linwood and the bidding was under way well, sort of.
Horses are not a hobby for Saffer. He and his wife, Jennifer, run about 50 head on a 400-acre ranch near Melvern.
Unfortunately for Saffer on this night, the young chestnut wasn't able to generate much interest among bidders. The horse brought only $130.
A couple of years ago, Saffer said, that horse probably would have brought $400.
And so it continued until about midnight, as 42 head of horses and mules went under the gavel. The highest price given for any of the animals was $1,200 for a quarter-horse gelding, said sale barn owner Everett Campbell.
That's a far cry from prices of just a couple of years ago, horse sellers say. For a variety of reasons, the bottom has fallen out of the horse market.
Several factors are mentioned the price of feed and hay, for example. Rising interest in ethanol production has driven up corn prices, and boarding and pasturage costs also have risen.
But the chief reason, many sellers say, is that animal-rights advocates forced the closure of slaughterhouses in Texas and Illinois that formerly kept prices higher.
In 2006, the last year they were in full operation, horse slaughter plants in De Kalb, Ill., and Dallas and Fort Worth, Texas, killed 100,800 horses, processed the meat and sent it overseas for human consumption, much of it to France.
After years of campaigning by animal-rights advocates such as the Humane Society of the United States, the plants were closed in 2007. In Texas, the Fifth U.S. Circuit Court of Appeals stood by its January 2007 ruling that upheld a state law banning the sale of horsemeat for human consumption. The law had been enacted in 1949 but never enforced.
The Illinois plant was closed in March 2007 after a judge ruled it illegal for the plant to pay the U.S. Department of Agriculture for inspection costs. Congress eliminated funding for the inspections in 2005. Later in 2007, Illinois also passed a law prohibiting the sale of horsemeat for human consumption.
Previously, Saffer and others say, the slaughterhouses set a floor for horse prices. If the slaughterhouses would pay 50 cents a pound for horses, any plug horse that weighed 1,000 pounds was worth $500.
Without that floor, there is almost no bottom to the market.
Witness the $130 for Saffer's first horse. He didn't consider that price an adequate recompense for the hours he spent training the animal, but of even greater concern was his next commission, a 2-year-old paint quarterhorse gelding, similarly trained, that sold for $460.
"Back in the day," Saffer said, "that horse would have brought $1,500, $1,600."
The market is flooded with unregistered, worthless horses, Saffer said. Most of the animals at Monday night's sale should have gone to slaughter, he said.
Campbell, owner of the Linwood sale barn, site of a horse sale every Monday for the past 22 years "except for about three" canceled by bad weather agrees that, generally speaking, the quality of the stock offered for sale is down.
The closure of the slaughter market is partly responsible, but is only one factor, Campbell said.
"It's fuel prices and grain prices that's hurtin' everything not only the horse market, but everything in general."
Still, occasionally an animal comes through that generates attention.
"Some of the horses sell extra good here at our sale," Campbell said.
A horse at a recent sale sold for $4,000, he recalled.
Other nearby horse sales are in Salina, Kan., and Tulsa, Okla.
Hay and grain prices have risen considerably, as have costs for boarding.
At one area facility, boarding costs have risen from $425 to $475 a month in two years. Pasturage prices have risen as well. Costs at Oakridge Farm in Shawnee Mission Park have gone from $150 a month in 2005 to $165 a month today.
The debate over the closure of the slaughterhouses goes to the bone in horse country, and it is a debate that centers on the relationship between a horse and its owner.
"A horse is a livestock animal," says Bob Saffer.
"There's two schools of thought on that," counters Sally Dwyer at Seven Oaks Ranch, a boarding facility in Spring Hill. "These horse people, they don't like to see horses slaughtered. They don't like to see horses go over to France for horsemeat."
And, although horse prices are down, that's not bad news for everyone, Dwyer said.
"It's a good time to buy a horse right now," she said.
Saffer decried the closure of the slaughterhouses.
"Until they get that opened back up, we're going to have a bad market," he said.
What authorities should have done, Saffer and his wife say, is regulate the manner in which animals are euthanized, rather than banning slaughter outright.
"I believe in humane slaughter," he said.
There should be nothing wrong with eating horsemeat, he said. At least, Americans should be able to use horse products in dog food.
Despite American prejudices against it, horsemeat is often consumed in Europe, chiefly in Italy, France and Belgium, and in some parts of Latin America and among nomadic cultures in Asia. Horsemeat is often described as slightly sweet in flavor, but with slightly less protein that beef or pork.
The closure of the slaughterhouses is also part of the reason for increases in the number of abandoned horses.
"That's 99 percent of the reason there are so many abandoned horses," Jennifer Saffer says.