Administrator settling into county post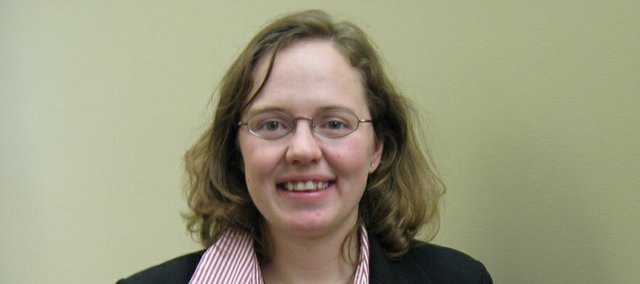 After almost a month on the job, Leavenworth's first-ever county administrator has "hit the ground running."
Since an initial, whirlwind week of introduction after introduction and numerous handshakes with local legislators, economic development specialists and fellow county employees, Heather Morgan says she has now fully settled into her role as the new administrative officer for the county.
Already, Morgan has made a visible difference in expediting some of the commission's actions, doing the necessary research and coordinating with appropriate personnel so the board can make more informed policy decisions.
"We're working smarter, we're working more efficiently, we're optimizing the employees' time and I think we're being very good stewards of the public's money," 1st District County Commissioner J.C. Tellefson said Monday.
Morgan, the former director of public and legislative affairs for Kansas's Juvenile Justice Authority in Topeka, has lent an "extra set of eyes" for nearly every piece of business that has come before the board in the past month as she familiarizes herself with the ins and outs of Leavenworth County government.
County staff is now strongly encouraged by commissioners to submit information to the administrator before a briefing report is then, in turn, submitted to the elected officials.
Planning and zoning director Chris Dunn commented that, with Morgan on board, there is a higher threshold for department heads wanting to bring business before the board, but, he made sure to emphasize, members of the public, as always, are welcome to meet with the board personally.
"Honestly, we (the county employees) were a little nervous at the beginning," Dunn said of having to deal with an added staff person, "but it's nothing that we can't deal with or shouldn't be dealing with."
He further noted, "She (Morgan) listens; she's fair; and she's a problem solver."
Morgan, in addition to filling a new role as a liaison for county staff, is also faced with assuaging some residents' concerns about her position, which was created by a board resolution and not public referendum last fall.
The position has caused somewhat of a stir among county residents, particularly because voters nixed its concept twice - in 1998 and 2002.
Morgan said, however, she hopes to ease any negative perceptions that people may have.
"I'm hopeful for people who maybe thought the administrator wasn't a good idea, that through some of the more expeditious actions of the board - streamlining things and really looking at where efficiencies can be gained - people will see that the administrator really is a benefit to the community," she said.
A graduate of Kansas State University with a master's degree in public administration, Morgan has ample experience in what will be one of her main responsibilities as county administrator: Helping prepare the county budget.
Morgan, along with county clerk Linda Scheer, will compile preliminary budget requests from department heads near the end of May, with individual hearings before the board beginning in June.
She said that, for her, with experience in the Governor's Office assisting with a statewide budget, budgeting in Leavenworth should be the easy part of her job.
"It's not knowing where to drive around and getting familiar with the community," she said as the more difficult part right now. "Getting familiar with the community, I think, is much harder than any of the work."
With every trip to and from her home north of Topeka, though, Morgan is becoming more and more situated in Leavenworth.
"The issues here are not different than in any other growing county," she said. "They bring unique challenges but also unique opportunities to ensure that we plan for the future growth of the county."
She compared herself to a "coach" for the county's department heads and supervisors and emphasized, "We need to work together as a team."
In regard to interacting with the public, Morgan said, "If people are wanting to come meet me, I'm very open. I've learned to be very open and really communicating. If I can help you, I'll tell you, and if I can't, I'll tell you that, too."
When asked if Leavenworth's taxpayers are getting their money's worth out of Morgan's $85,000 yearly salary, Tellefson said, "Absolutely."
"She's very perceptive of what needs to happen," he said. "She doesn't seem to be reluctant to get involved in anything, but she's not terribly pushy. From my perspective, she couldn't be doing anything better."
But, he added, "It's a learning process for us (commissioners), too."