K-State Singers rock 4-H Foundation event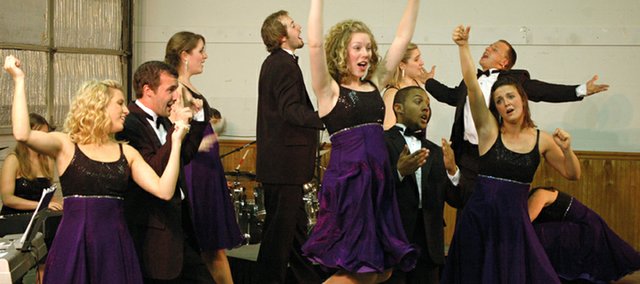 Leavenworth County 4-H board president Donna Wiley received quite the serenade Saturday at the 4-H Foundation's annual meeting at the Leavenworth County Fairgrounds.
The K-State Singers, consisting of roughly 20 Kansas State University male and female students, performed at the meeting. At one point during the performance, Jason Miles, a Lawrence-Free State High School graduate who is a K-State Singers member, escorted Wiley, his grandmother, to the performance area.
Miles and fellow K-State Singers male members serenaded Wiley with "For The Longest Time," arranged by Roger Emerson.
After the song was complete, Wiley approached a podium set up for the event.
"Where else can you be serenaded by eight young men in front of 100 people," Wiley said, setting off a round of laughs from the crowd gathered at the meeting.
The meeting opened with a meal and was followed by Nelson Galle, a former McPherson County 4-H member who graduated from Moundridge High School and then Kansas State University.
Galle opened his speech by saying a few words in Turkish.
Galle translated his words to English.
"Hello, how are you," Galle said.
He spoke in Turkish for 4-H alum and supporter Bill New, who, like Galle, made a trip to Turkey through 4-H.
Galle spoke about the importance of studying abroad. He noted that his sons finished their 4-H Record Books in Belgium.
He also spent his 21st birthday near the Black Sea, about 100 miles from the former Soviet Union.
Growing up in 4-H helped Galle in his professional career, and he noted, has found examples of 4-H's influence on the careers of other 4-H'ers.
Galle shared a story of speaking with another former 4-H'er about members of Rock Springs 4-H Center near Junction City. Galle couldn't remember when he attended a specific event at the 4-H camp. The person he was chatting with told him to "get out your 4-H record book."
Sure enough, Galle found the exact year because of his record book: 1948, when he was 12 years old.
During his walk down memory lane, Galle also mentioned an event at 4-H camp at Rock Springs as a youth when he met a young girl who also was attending the camp.
"As Paul Harvey says, 'now here's the rest of the story," Galle said, hinting that the girl later became his wife, with whom he's celebrated a 50th wedding anniversary.
At the meeting, several scholarships were handed out as well. Members awarded with $700 scholarships were: Michelle Chrisman, Ryan Grammer, Shilyn Guthrie, Trey Lohman, Max Packard and Sara Smith. The lone $600 winner was Lindsey Gonser. And, $500 scholarship winners were Alicia Beth Ciszewski, Jake Johnson, Allena Theis, Amy Theis, Kristen Titterington and Hillary Wagner.
The meeting continued with silent and live auctions, as well as election of board members before the meeting concluded with the K-State Singers' performance.
The Leavenworth County 4-H Board did not change. Denzel Gibbens, Carolyn Norman and Debra Staples all were re-elected. Others on the board are Wiley, president; Laura Todd, first vice president; Bob Bozworth, second vice president; Janice McCue, secretary; Joseph Wood, treasurer; and Patricia Scharinger.
During the K-State Singers' act, the group sang several songs as a group, as well as a few solos and duets. Two pieces that attracted the most laughs were a duet among brothers Caleb Wieneke and Jacob Wieneke of Lincoln, Kan., and the full group's tribute to commercials in which the singers performed a medley of several ad jingles.