Lady 'Cats keep it close for a half
Scoreless for 40 minutes, Mill Valley nets three goals in second half for win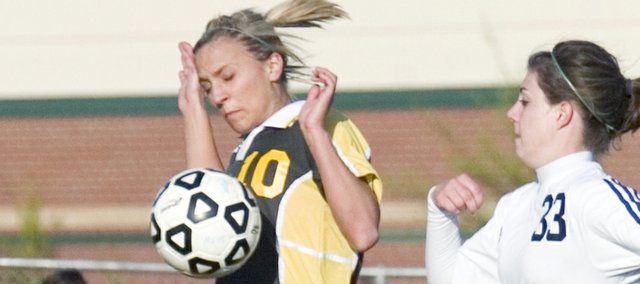 It was just one of those days for the Basehor-Linwood girls soccer team on Tuesday at Mill Valley.
The Jaguars were faster, stronger and had more cohesion than the Lady Bobcats, who were defeated 3-0.
Mill Valley goaltender Rebecca Newhouse made two diving saves on shots off the foot of Jessica Smith in the game's final five minutes to preserve the shutout, a microcosm of the day.
"If you have mental breakdowns, a good team will capitalize," BLSH coach Kevin Vincent said. "Mill Valley is a good team."
There was no score at halftime, despite the ball frequently being controlled by the Jaguars. Mill Valley made up for it in the second half. Kelly Donaghy scored the game's first goal with 34 minutes to play after her header found the back of the net. Miranda Lopez raced past the defense and shot a dribbler by BLHS goaltender Carol Smith into the right corner of the net with 23 minutes left for the second goal.
Vincent said the team had scoring chances in the first half but couldn't capitalize. He said his team thought it could play with Mill Valley, but the game turned when the Jaguars scored their first goal.
"Their offense is pretty good," Vincent said. "They put us on our heels. They are an attacking team."
Mill Valley's Breana Hoener capped the scoring with 18 minutes left after a high rocket shot beat Smith, who was able to touch the ball with the tips of her fingers at her leap's apex but not stop its momentum.
Audrey Brock was able to advance the ball up the field for BLHS, but she was frequently alone if she penetrated the defense's initial layers. She said it was frustrating that teammate's weren't present to pass to after the ball was in Mill Valley's zone.
"We were cluttered up on the field," Brock said. "It's very frustrating when you are doing all you can and your teammates don't help you out by being there."
Brock had the extra motivation of playing in front of her future college coach; Baker's Nate Houser was expected to be in attendance at Tuesday's game. Brock will sign with Baker on Monday.
"She plays with intensity and fire," Vincent said. "She knows how to anticipate the game."
Brock said Mill Valley's strong defense, along with a passive Basehor-Linwood offense, attributed to the shutout.
The loss drops the Lady 'Cats to an even 5-5-1 on the season.
Basehor next plays at 4:30 p.m. Tuesday against Tonganoxie at Chieftain Park.