Families of deployed soldiers share experiences on
TV

documentary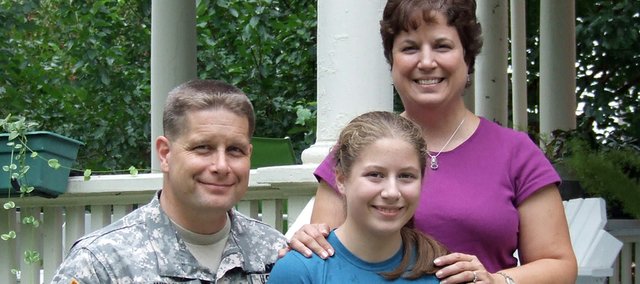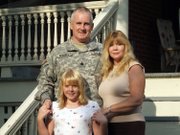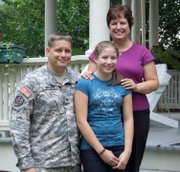 While news stories abound of soldiers fighting the war in Iraq, left out of the picture all too often are the families of those soldiers who have been left behind.
Such families are the focus of a recently aired documentary on the children's cable network Nickelodeon. The "Nic News" special, "Coming Home: When Parents Return from War."
Participating in the show were two Fort Leavenworth families who wanted to tell their stories to help families around the country experiencing the same issues.
"I was kind of sad but I knew he was there for a good reason," recalls Kendra Russell, 12, of the answer she gave when the interviewer ask how she felt when her father left.
Kendra's father, Lt. Col. Ken Russell, was first deployed in 2003 for eight months to Baghdad and then again in 2006. The time apart was difficult for the whole family but Kendra said she tried to keep busy to keep her mind off the situation.
When approached to participate in the documentary, Kendra was unsure because she said she's always been shy. But after more consideration she decided it would be fun and was encouraged by several other friends on the fort who were also participating. Eventually, she said, she forgot the camera and tried to answer the questions honestly.
"I'm proud of my dad," Kendra told the camera. "He's awesome."
Ken said he wasn't surprised by anything she said during the interview because the Russell family had always been pretty open.
While he was gone, the Russells adjusted to Ken's absence, and Kendra's mother, Kristy Russell, said she served a lot more TV dinners instead of home-cooked meals. Mother and daughter enjoyed watching movies and eating comforts foods as they waited for Ken to return. Between them grew a bond that Ken said he noticed right away when he got home.
"They became thicker than thieves," Ken said.
Over at the Witsken household a few blocks down Grant Boulevard, the main thoroughfare at Fort Leavenworth, Beth Witsken, 13, was also trying to stay busy, hoping to keep her mind off her own deployed father.
Col. Jeff Witsken was deployed to Baghdad from July 2006 to July 2007. In his absence, the family had to make several adjustments, but there were some traditions that continued as he was gone.
Before being deployed, every night Jeff would say good night to his daughter and give her a new nickname. It was a tradition between the father and daughter so Jeff found a way to keep it going despite the distance.
Jeff filled a calendar with a nickname for each day of the month to be hung above her bed.Beth could look at it before going to sleep and feel her father was with her.
"It would be just like I was still there," Jeff said.
Beth said she wanted to be in the documentary because she had always wanted to be on TV. But she hoped to pass a message to other children in her position.
"I hope they get from me at least that when they (parents) come home, everything will be all right," she said. "Everything will be back to normal again."
Jeff said he was proud of his daughter and the honest answers she gave, but there was one response that he admits caught him off-guard.
"Beth said something to the affect that she wanted people to realize that there was a lot of sacrifices being made and she didn't want those sacrifices to be a waste," he said.
Jeff said he didn't know his daughter had thought about the war beyond how it would affect their own family.
"Even though they may not like the war," Beth said, "they should respect the people who are fighting it. You have to feel for their families."
While their fathers were gone, both Beth and Kendra participated in a program at their middle school on base. for students with deployed parents. The group met twice a month to talk, play games, send letters to their parents and support each other.
For Ken, the documentary reminded him of how lucky his family was to be on post where programs such as Hearts Apart was available. He said many families of National Guard volunteers don't have those opportunities, which he said makes the time apart harder. When you live on post, he said, your life revolves around the military, so there is a built-in support system. Ken said he hoped the documentary showed those people who don't have that support that they are not alone.