Highway to close for bridge demolition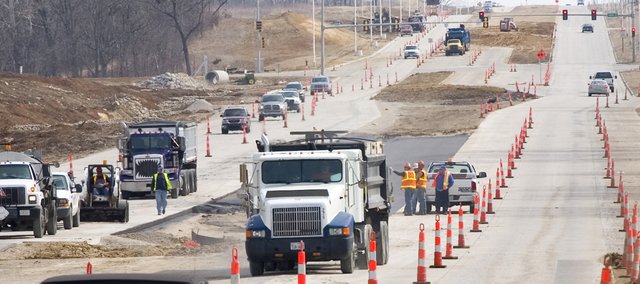 Weather permitting, U.S. Highway 24-40 will be temporarily closed at Kansas Highway 7 on Friday, and possibly Saturday night, for bridge demolition work.
Kansas Department of Transportation officials said the highway would be closed at 8 p.m. Friday to 9 a.m. Saturday, between 141st Street and 130th Street. If more work is needed for demolition, the road will once again be closed at 8 p.m. on Saturday and reopened at 9 a.m. Sunday.
Advance message boards will alert traffic to the U.S. 24-40 closure. Marked detours will be provided during the closure. Drivers should expect delays during the project and are encouraged to use alternate routes, if possible.
The existing K-7 and U.S. 24-40 cloverleaf interchange will be replaced with a new partial cloverleaf or folded diamond interchange and the addition of auxiliary lanes on K-7 and U.S. 24-40. The lane addition will provide traffic with acceleration and deceleration lanes for the new interchange on- and off-ramps.
APAC Kansas, Inc., is the primary contractor for this project with a total contract cost of $35,739,978. The scheduled completion date for the entire interchange project is early winter 2008.
Updated daily lane and ramp closure information for this interchange project can be viewed online at: www.ksdot.org/kcmetro/laneclose.asp.