Basehor teacher to visit Olympics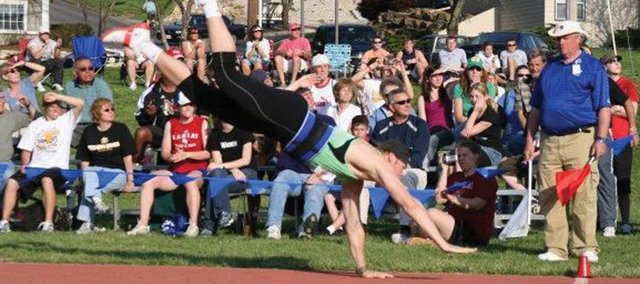 An upcoming trip to Beijing will be an exciting experience, a culture shock and a tool that can be used to teach others for Basehor-Linwood School District teacher Tiffany Jackson.
But it will also be a lifelong goal fulfilled for her fiancee, Scott Russell.
The Lawrence couple has the opportunity to travel to the upcoming 2008 Olympic Games in Beijing, but while Jackson, a physical education teacher at Basehor-Linwood Middle School and Linwood Elementary School, will be in the audience, Russell will compete on the Canadian Olympic Track and Field team for the first time.
A native of Windsor, Ontario, Canada, 29-year-old Russell has been a javelin thrower since he was 14. He went to Kansas University on a track scholarship and has competed and placed in three world championships. In 2001, he even broke the Canadian javelin record, but a spot on the Olympic team has always been just out of his reach.
"Honestly every year I was potential for making the Olympic team, including this year, I've had injuries," Russell said. "It's a frustrating game."
But, a more than 83-meter throw at a June 15, meet in Richmond, British Columbia, pushed him past the mark and he became an official member of the 2008 Canadian Olympic team on July 7.
Russell boarded a plane Wednesday morning and will be one of five out of about 30 Canadian Olympians to walk in the opening ceremonies on Aug. 8. Afterward, he will join his teammates in Singapore for training until the qualifying round Aug. 21.
Jackson and her mother will arrive in Beijing on Aug. 19, where they will enjoy the attractions such as Tiananmen Square, the Forbidden City and the Great Wall of China, but the highlight, she said, will be watching Russell compete.
"I'm just so excited to see him compete," she said. "I've seen him compete in little meets, but I've never seen him compete in huge events. I'm going to be in the Bird's Nest, hello, that's huge. And I'm a P.E. teacher, so I'm a sports fan. It's going to be neat."
At first, Jackson said she thought the trip was going to be too expensive, but her mom's stock of frequent flyer miles along with some help from Ludus Tours, allowed her a short trip overseas. However, she said, she always knew the trip was coming.
"He's been doing so well, and this was going to be the year," she said. "I started saving two years ago with the idea that he was going to make it. I wasn't surprised. I was really happy. It was a big stress relief."
Viewing the Travel Channel has helped Jackson brush up on knowledge of China and she said she plans to document her trip with a video camera, then show it to her students when she returns. While she is away, the students will also be completing a unit on the Olympics, so they can follow along and understand what Jackson has been doing.
Some of Jackson's students also know Russell, who has taught a javelin unit in some of Jackson's classes in the past. He is currently finishing up a master's degree in physical education from KU and will become a teacher when he's done throwing. However, he said, his javelin days are far from over.
"I'm going to ride this train until the wheels fall off," he said. "If my body decides to let me go four more years, I'd like to try to make the 11 Olympics. I want to do the sport until I'm not having fun with it anymore."
Russell said his realistic goal is to be in the top eight of the qualifying round at this year's Olympics. If he at least makes the top 12, he will go on to the final round on Aug. 23. Of course, he said, all Olympic athletes dream of medaling, so that is his ultimate goal. While he said there are several athletes that are throwing the same distance this year he said the fight for the three medals is going to be fierce.
"You have to have a goal that is beyond what your mind can really comprehend," he said. "If you don't have that lofty goal, there's no reason to continue to compete and get better."
He said Tuesday that reality has not set in for him yet and he's been trying to think of it as just another world championship to avoid too much excitement. However, he said it will probably hit him once he steps into the Olympic Village in Beijing on Aug. 8.
"Believe me I'm excited, but I'm trying to downplay it," he said. "It seems surreal because it has been this lifetime goal and all of a sudden, OK, it's real, I'm going to the Olympics, but it doesn't seem real yet."