Bobcats await home field advantage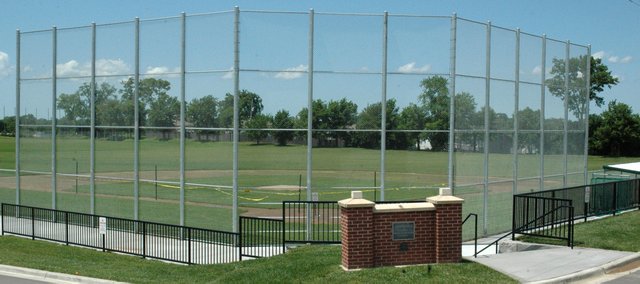 It takes little more than a glance at the old field behind Basehor-Linwood High School to realize exciting changes are under way for the BLHS baseball and softball teams.
Specifically, homes are being built. Not with walls and roofs, but with backstops, grass infields and dirt base paths.
By home, think home-field advantage.
After years of playing home baseball games at Field of Dreams and Mid-America Sports Complex, the Bobcats are a major step closer to moving their home contests to the BLHS campus.
As for the Lady 'Cats, soon they will leave Field of Dreams and play on campus as well.
Of course, the real question is when this relocation will occur.
"We would like to have it game-ready this year, but I'm being cautiously optimistic whether that's going to happen," said David Howard, Basehor-Linwood School District assistant superintendent. "There's a lot more that goes into that than what you might think, and the cost has really prohibited us (from moving along faster). Right now it's a practice field."
A PIECE OF THE PUZZLE
BLHS has been in need of athletics facility development for years, and in the past year the district took major steps toward upgrading.
"The school board has just been fantastic in supporting what we need facility-wise," said Joe Keeler, BLHS athletics director. "They've been very good about that."
When the school board began outlining the $39.9 million school bond issue passed last year, Howard said it also drew up a master plan for its athletic facilities. Immediate and longer-term needs were identified.
There was no time frame for the facilities development, Howard said, except to quickly begin building the competition soccer field just west of the high school. It was included in the bond issue at a cost of $400,000.
Construction on the soccer field is complete. The bleachers are in place, as is the scoreboard, and new grass is growing. Soon the goals will be hauled out. The BLHS boys soccer team is expected to begin playing on the new field this fall.
PHASE TWO
Baseball and softball fields are the next step on the athletic facilities development plan. Whereas the soccer field was built all at once, the baseball and softball fields are a step-by-step project, Howard said.
The baseball field will replace the old practice field that was donated by Bernard Eberth, a former Basehor mayor and construction company owner who put up the old backstop and fencing.
"It has changed dramatically since then," Howard said of the new development which will bear the name "Eberth Field."
At the moment, the baseball field appears close to game-ready. The infield has been leveled and sodded, and the new grass is green and trim. In addition, the backstop is in place, as are the dugout fences and roofs. The dugout floors have been paved, as has the seating area.
The only items missing are bleachers, an outfield fence, lights and a scoreboard. The lights aren't particularly urgent, Howard said, and they're also the most costly accessory. Currently, schools without lights make due by starting games 30 minutes earlier.
The scoreboard will be donated by Vera and Tim Gaffney in memory of their son, Joshua Gaffney, a 14-year-old Basehor-Linwood Middle School student who died in an automobile accident earlier this year.
Development on the first of two softball fields also has begun. The infield has been dug up but not leveled. Meanwhile, the backstop and dugout fences are in.
An outfield fence eventually will be in place, and it will butt up against the baseball field's fence.
"It's getting closer," Howard said. "It's been kind of on hold because there's a lot of things going on."
STAY ON CAMPUS
While home-field advantage is a big reason for building the fields on campus, another reason is liability. The less the school has to transport students, the less the chance of an accident in transit.
Last year the baseball team practiced at home but was bussed to games. The softball team busses to Field of Dreams for practices and games.
"Ideally we want them practicing here on our facilities," Howard said. "To me, our first goal is to make sure both softball and baseball are able to practice here and from there move forward as far as competition."
By playing at home, BLHS also would save money by not having to rent a facility. Howard said the school pays about $250 per doubleheader at Field of Dreams and about $100 per game at Mid-America Sports Complex.
"They're very reasonable as far as what they charge us to host games up there," he said. "It's a great facility, but ideally we'd like to have them on our school property."
Howard expects both sports to practice on campus in the spring. As for having games there, only time will tell.
"To say we're going to play on it this year, I'm not sure that's going to happen," he said. "But if everything works out we could."