District sees increase of new students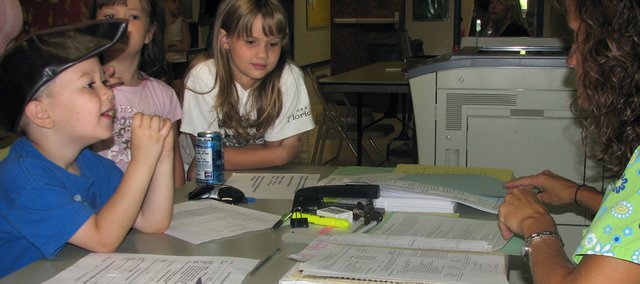 Basehor-Linwood School District enrollment is ruled by checklists.
From students and supplies, to parent involvement and new teacher orientation, district officials are making sure all lists are complete to have a successful 2008-2009 school year.
A growing list of new students was something all five schools experienced during the two-day enrollment period Monday and Tuesday.
"Enrollment is expected to be up about five to 10 students," Missy Smith, secretary at Linwood Elementary School, said.
While there are some students leaving the district, all schools reported a significant list of new students. Basehor Elementary School reported the highest number with about 35 new students enrolled by the end of the day Tuesday. Preliminary enrollment numbers will continue to fluctuate until the first days of school August 14 and 15.
Parents were greeted by the usual lists asking them to sign up to volunteer in the classroom or join parent teacher groups, but the list asking parents to sign up for a Skyward password was brand new.
The district has struggled with online student management programs in the past, but they will be launching a new one called Skyward this school year. Sandy Guidry, Director of Instruction and Curriculum, said teachers have received a great deal of training with the program, which allows teachers to post assignments and grades on a secure site for parents to view.
"We're hoping to get passwords out to parents sometime around the first of September," Guidry said.
The start of a three-day orientation for new district teachers also began Tuesday, introducing them to the long list of district expectations with the help of the district's mentoring program.
"What we look for first is a teacher that has been in the district for a minimum of three years," Guidry said about choosing mentors to guide new teachers. "I do mentor training with those teachers and when that's finished, we pair them up. The first priority is in the same building because they need to be accessible, and if we can, the same subject area or the same grade if possible."
After a tour of the district Tuesday afternoon, new teachers spent time in their classrooms with their mentors going through large checklists, asking questions and addressing concerns. Other activities throughout the orientation included addressing personnel issues in the central office such as how to call for a substitute, technology training and a welcome lunch provided by Basehor Gold PRIDE.
"The mentoring program came about in an effort to retain quality teachers," Guidry said. "Just being there and having somebody to ask questions of is a very important part of it."