Lombardino seized spotlight by shunning it
Basehor-Linwood senior thrived off teammates, unselfish attitude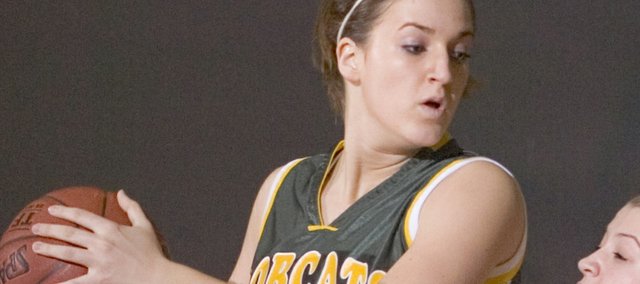 When she first arrived at Basehor-Linwood High School four years ago, the question about Cassie Lombardino wasn't whether she'd be a good athlete. That much already was a given.
The real question was "how good?"
Turns out the answer was a different "G" word: great.
Lombardino was a dominant presence on the basketball and volleyball courts throughout her high school career. She was one of the Kaw Valley League's most feared competitors and one of the state's best all-around athletes. She helped make BLHS a force to be reckoned with by the time she was a senior, and her accomplishments earned her the distinction as the Basehor-Linwood female athlete of the year, an honor given annually by the Sentinel to a graduating senior.
To understand why Lombardino was such a successful athlete, it's important to grasp that she arrived at BLHS with a talented class of athletes that had high expectations of each other. They demanded a lot from each other and wanted to succeed as a unit.
"As a group we always wanted to be that team that made a statement and were always remembered for our accomplishments," Lombardino said. "We knew we could achieve it, but it just took a while to figure out."
The Lady 'Cats were near the bottom of the Kaw Valley League basketball standings when the class arrived four years ago. Four freshmen, including Lombardino, cracked the varsity starting lineup.
Of the four freshmen, Lombardino attracted the most attention as she already was 6 feet tall. Although she had a vertical advantage over her opponents and garnered All-KVL honors as a freshman and sophomore, it took two years to truly polish her skills.
Noah Simpson, the first-year BLHS coach, was an assistant during Lombardino's first three years and said she was committed to improving from day one.
"She responded well to everything we did," Simpson said. "She really worked hard, never questioned anything and wanted to get better."
By the time her junior season rolled around, Lombardino was a legitimate star in the league. Whereas Tonganoxie 6-foot point guard Ali Pistora was the league's top all-around performer, there was arguably no one better on the interior than the 6-foot-3 Lombardino. She averaged 12.4 points and 8.2 rebounds as a junior and helped the Lady 'Cats turn in their first winning season in five years at 12-10. As a senior she averaged 17 points per game and put up 24 in the substate finals as BLHS advanced to the state tournament during a 22-2 campaign.
"That was the highlight of everybody," Lombardino said of the state berth. "It was the stamp of everything we've been through and what we had to push through to get there, all the different road bumps to get there. It was a satisfying feeling, even though we wanted to get further, we knew just getting there was a big deal."
For her efforts, Lombardino garnered all-league honors for the fourth straight year and was named All-State by numerous publications.
"Cassie was just a huge part of our success, and a lot of it definitely had to do with the hard work and dedication she put into getting better at basketball," Simpson said. "She was excellent on the court. Every game she would score a lot of points, block a lot of shots, get rebounds, and she was just tough to match up against."
Volleyball opponents also had a difficult time combating Lombardino's towering presence.
Tammy Zydlo coached Lombardino on the varsity volleyball team for the past two years. As the program's new coach, Zydlo said Lombardino was a tremendous asset to inherit because she already had a year of varsity experience under her belt and was so versatile.
"I think she was intimidating to a lot of teams because a lot of people knew her through basketball, and she's a very athletic 6-3," Zydlo said. "She could dominate a game. We relied on her in the middle to make big plays, and she just did a great job for us."
The Lady 'Cats routinely looked to Lombardino to make a game-changing play, whether it was a hard kill or a timely block. In fact, she was the team leader in both categories as a senior, posting 259 kills on 333 attempts and recording 144 blocks. Her performance landed her on the all-league first-team.
BLHS ended the season with a 21-15 record, its first 20-win season in a decade. Zydlo said Lombardino was a major contributor to the team's success.
"A team's only as good as its middle hitters, and she was an awesome middle hitter for us," Zydlo said. "I'm going to miss the fact that I knew she could put the ball down on the court and that I knew she'd be up there for the big block."
In both sports Lombardino was a leader for the Lady 'Cats. Her coaches said she wasn't always a vocal presence, but she wasn't shy about leading by example. Both Simpson and Zydlo also credited Lombardino's talented classmates with making her better because they all grew together and fed off each other.
"It worked both ways," Zydlo said. "They're a very close group, and they played a lot of sports together for a very long time."
Lombardino said leaving her teammates would be the toughest part about leaving Basehor.
"They're a big part of who I am," she said. "We've always been really close and we've known each other for so long and played with each other for so long. It's going to be hard not having that core group that can be there for each other. It's going to be a big change, but I guess that's part of life."
Both coaches said it would be nearly impossible to replace Lombardino because of the physical attributes she brought to the court. More than her athletic ability, both said they would simply miss having one of their favorite people around when she heads to Washburn University this fall on a basketball scholarship.
"I'm just going to miss Cassie as a person," Zydlo said. "She's great to be around, was a joy to be around, and I'm going to miss not seeing her every day and enjoying that personality of hers. She's a big player and a big personality."
Simpson agreed.
"Not only is she a great basketball player, but she's a wonderful human being," he said. "She's a great kid, and she's going to be very successful at Washburn and create herself a wonderful life."