Grocery store continues access fight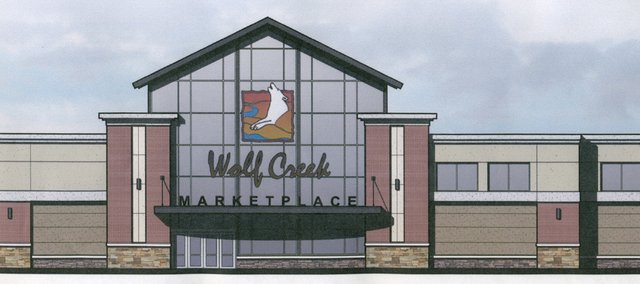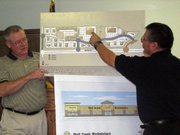 It's all about access.
That's the reason construction on Wolf Creek Marketplace, a more than 40,000-square-foot grocery store planned for the Wolf Creek Junction development on the northeast corner of 155th Street and U.S. Highway 24-40, has yet to begin.
Ed McIntosh along with his business partner John Bell of Benchmark Management announced their plans for the store in October 2006 with hopes of an opening day in fall 2007. However, obstacles of all kinds have delayed construction for more than a year and a half, the largest being adequate access to the store from 24-40.
"We're where we've been for a while," McIntosh said. "We're still working with KDOT (Kansas Department of Transportation) on our access issues. We're making some progress, but it's slow. Hopefully it speeds up pretty soon."
The pair, along with third owner and operations manager Kevin Barclay, are hoping to create a 153rd Street right-in, right-out access to the Wolf Creek Junction shopping center between 150th Street and 155th Street on U.S. 24-40. They claim the access point is more or less essential to the store's ability to thrive. KDOT, however, is not budging on the 153rd Street access.
Jim Pickett, KDOT metro engineer, has been in on the discussions with Benchmark Management and said KDOT sent a letter to the city of Basehor last week denying the 153rd Street.
"For a variety of reasons, the 153rd Street access point is denied," Pickett said. "First, it doesn't meet the spacing requirements specified in the corridor study."
A yearlong study of two-mile wide strip of U.S. 24-40 from Kansas Highway 7 through Basehor and Tonganoxie was completed in late 2007. It specified the future use of the highway for the next 30 years including access points.
With traffic turning onto 155th Street and 150th Street, Pickett said KDOT fears the addition of another access point at 153rd Street would make the area too congested and perhaps dangerous. Vehicles would be weaving to try to reach the deceleration lane at 153rd Street, then pulling out of 153rd Street and trying to accelerate, he said.
"When you factor in the other two streets, there really isn't room for all of those decelerating and accelerating decisions and that's just going to keep getting worse as traffic picks up," Pickett said.
McIntosh said he has suggested improvements to the intersection of 150th Street and U.S. 24-40 on the north side. He said having access to the Wolf Creek Junction from both sides is the key and straightening and grading 150th Street would provide adequate access.
"That would be a fair tradeoff for us," McIntosh said. "That would give us the access we need for our development and give KDOT a better intersection with less problems."
Pickett said improving 150th Street was discussed as an alternative, but the project would be expensive. Capital improvement projects are prioritized and adequate financial support from the local government, including the city and county, helps a project gain support from KDOT, he said.
"One of the things that always matters is we try to be a working partnership with our local units of government," Pickett said. "Whenever we can do that with a private entity, that's also a plus. In this case, I don't think the city (Basehor) has disagreed with this improvement, but I think they see it how we do. We just don't have the money right now to approve it. We're willing to work with any partnership that has enough strength behind it to meet the challenge and in conversations with the city and the county, I don't see that at this point in time."
McIntosh said the next step was uncertain at this point, but said they would build the grocery store as promised regardless.
"We are ready to start building and we are going to build it," he said. "Our finances are resolved, but the access is a huge issue with us. We'd really like to have that resolved before we start. It's not impossible to do it if it wasn't, but it would be a lot better if it was."