Basehor Sonic earns semifinalist status in annual games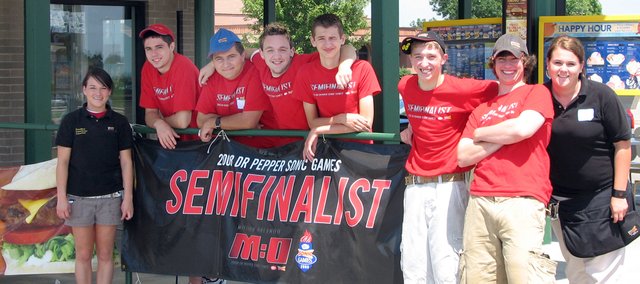 One of the best Sonic Drive-Ins in the country is right here in Basehor.
Sonic employees recently learned their store ranked in the top 300 out of more than 3,000 Sonic restaurants nationwide through the 2008 Dr. Pepper Sonic Games.
The competition between Sonics is something the Basehor location participates in every year, but it has not received the prestigious semifinalist status in more than three years, general manager Katie Brest said.
"They really wanted to get it this year, so they decided to go for it," she said.
Fueled by a mixture of a friendly rivalry with the Tonganoxie Sonic and the grand prize trip to Orlando, Fla., the 30 carhops, cooks and assistant managers shared knowledge and encouraged each other. The competition runs from January to September each year and what is called a "Mystery Shop" visits each participating location and places an order four times per month.
"They grade us on service, food quality and overall environment," Brest said. "The employees also take quizzes over the phone each month on food safety, food service and quality."
Brest said with veteran employees helping the rookies, they learned that it wasn't hard to score points with the Mystery Shop if they just put in a little bit of extra effort. One employee even bounced around the saying, "just put that little extra in extraordinary" to motivate his co-workers.
Employees Donnie Dalsing and Ethan Hammons both said they had never heard of the Dr. Pepper Sonic Games in the time they had been working at Sonic, but quickly learned it was more fun than work.
"Anytime our manager said this might be a Mystery Shop, we would try twice as hard," Dalsing said. "Normally we've been scoring in the high 80s and 90s, which is amazing. When we heard we were one of the best, that was pretty cool."
"You're always just kind of on your toes," Hammons said.
One point of frustration, Dalsing said, was they were unable to score a 100 percent because one of the questions the Mystery Shop must answer is, "Do you see a carhop on skates?" While none of the carhops delivered orders on skates at the time, they have since added one and will continue to work on that for next year.
The Basehor location just missed the mark for the Orlando trip. Brest said that if the store would have made it to the next level, it would have been among the nation's top 48 Sonics. The top 48 participate in a knowledge bowl that eliminates all but 12 teams. Employees from those 12 locations will fly to Orlando in September and a Sonic will be shut down to allow the teams to compete for the top spot through simulated rushes.
"I think their ultimate goal was a free vacation and bragging rights," Brest said.
Next year is a new year for the Basehor Sonic, and Brest said the employees will definitely go for it again. For now, the employees are proud to be semifinalists. All of them received T-shirts to commemorate their accomplishment, and a banner hangs on the railing just in front of the drive-thru to recognize the staff for their hard work. Brest said customers ask about it all the time.
"They think it's pretty neat," Brest said about customers who learn about the location's ranking in the Games. "We've gotten a lot of compliments. A lot of them know the kids and they know the kids deserve the attention for it."